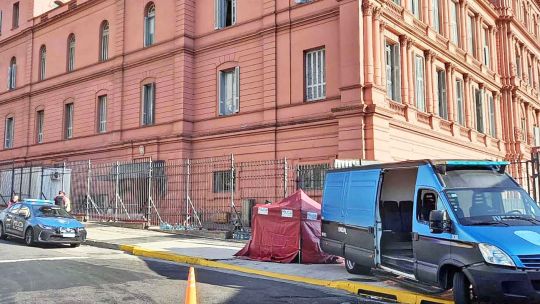 If a picture is worth a thousand words, the death of a three-month-old baby, who along with her parents was homeless, is the starkest photo of the reality suffered by 39.2% of the Argentine population which is below the poverty line. But the image also serves to measure what 5.5 million boys between 0 and 14 years old live, 54.2%, who do not manage to cover their basic food needs, according to the data given to known by the Institute of Statistics and Censuses (Indec), on Thursday afternoon.
As the tragedy could be reconstructed, the death of the baby would have occurred during the early hours of yesterday, when her parents warned that she had no vital signs. The family group had spent the night in the corner of Paseo Colón avenue, a few meters from the intersection with Hipólito Yrigoyen, as they usually did. Wanting to wake her up, and noticing that she "did not respond to stimuli", her parents, who are between 25 and 30 years old, asked the police officers who are stationed in the vicinity of the Casa Rosada for help. A SAME ambulance was immediately present, which confirmed the death of the girl.
According to official information, the head of SAME, Alberto Crescenti, informed the City Police that "when the medical personnel arrived at the scene, resuscitation maneuvers could not be carried out, since the baby had already died, and that they must wait the result of the autopsy to determine the cause of death. The death of the baby would have occurred "presumably due to respiratory difficulties." The Criminal and Correctional Prosecutor's Office 10 carried out proceedings "for doubtful death" and ordered the Mobile Criminal Unit and personnel from the Psychological Care Cabinet (GAP) of the Ministry of Security and Justice to assist the parents.
A merchant in the area, who witnessed the event, assured that "the mother came out shouting 'my baby, my baby!'" when she found that her daughter did not respond. "They turned to me to see if I had a telephone to call the ambulance, and I told them to go to the front (referring to the Casa Rosada, where PFA personnel were)," said the witness in dialogue with the press.
Attentive to this circumstance, María Migliore, head of the City's Ministry of Human Development and Habitat, assured the TN channel: "We had been working with this family since 2019, when we made different interventions, since they were on the streets with another eldest daughter. It is a family that is going through different situations of vulnerability, and was accompanied by ministry personnel, from the Buenos Aires Presente Program.
The Buenos Aires government reported that the father is from Tucumán and the mother from PBA, that they have two other children and that they are assisted by the team of the program for people in situations of socioeconomic and housing vulnerability.




Source link