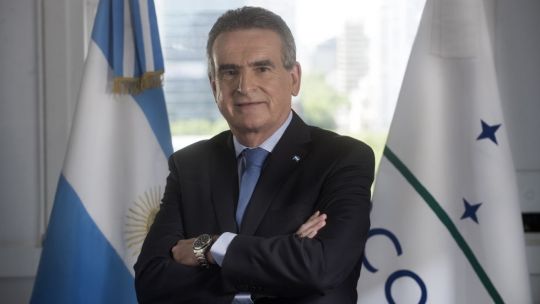 the chief of staff Agustín Rossi He will give his first management report to the Chamber of Deputies this Wednesday, where he will present the progress of the national government and answer questions from legislators, just over a month after taking office.
The special session in which the coordinating minister will present was officially convened by the president of the Chamber of Deputies, Cecilia Moreauwho formalized the call to the plenary for 10:30.
After having disembarked in the National Cabinet on February 15, Rossi will provide his report on the progress of the Government, as required by Article 101 of the National Constitution, where he indicates that "the head of the cabinet of ministers must attend Congress at least once a month, alternately to each of its Chambers, to report on the progress of the government".
Who is Agustín Rossi, the one chosen as Alberto Fernández's chief of staff
The Chief of Staff sent this Tuesday in writing the Management Report number 135 responding to the 3,477 questions asked by the members of the Lower Housewhere he mainly addressed issues related to the areas of economy, security and education.
According to what was reported by the Undersecretary for Parliamentary Affairs, the Ministry of Economy was the agency that received the most questions, followed by the Security, Education, Justice and Human Rights, and Social Development portfolios.
as he learned THATfrom the block of Together for Change will have two priority issues when making their inquiries: knowing the scope of the DNU of pesification of the assets in dollars of the Guarantee and Sustainability Fund and what is the state of situation of the Santa Fe city of Rosario.
27 business days after taking office, Rossi will report on the progress of the national Executive, marking a difference with his predecessor in office, the governor of Tucumán Juan Manzurwho only attended Congress twice.
JJuan Manzur returns to Tucumán but does not drop the presidential aspiration
Despite having taken office on September 20, 2021, Manzur's first visit to Parliament was at the special briefing on June 2, 2022 in the Senate and at the briefing on September 14, in Deputies.
By presenting report number 133, which was almost 2,200 pages long, the man from Tucumán broke the record for questions received by counting 3,926 queries, of which a thousand were made by the 50 deputies of the PRO bloc.
Meanwhile, for the last management report of 2022, number 134, the Cabinet Office decided that the coordinating minister not attend the Senate and only answer the questions in writing.




Source link