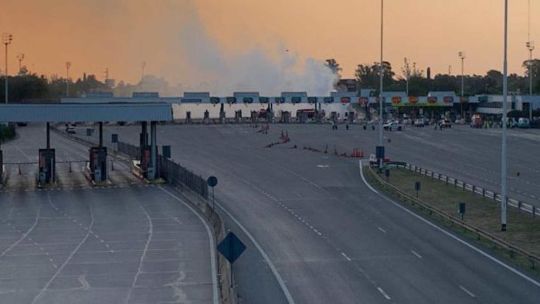 And truck spilled a toxic substance after having a malfunction at kilometer 26 of the West Accessso they had to cut traffic at the height of the Ituzaingó toll.
This situation caused problems among the neighbors and generated a vehicular chaos in the zone. "Km 26 road accident. Ituzaingó area toll closed to traffic. Detours at Barcala and Martín Fierro exits, in both directions. Drive with caution," they reported on the Twitter account of the Autopista del Oeste (@AuOeste_AR).
They also added: "Spill on roadway Km 26. Truck spills unknown substance. Ituzaingó area toll closed to traffic."
Apparently a truck carrying a toxic product suffered damage and refrigeration failedso the problem arose."
In this sense, they reported that there were no injuries from this situation. The truck belongs to the company Losada Transporte and left the port of Buenos Aires heading to General Rodríguez.
What is the toxic substance that the truck spilled in Ituzaingó
The toxic substance would be clethodim, a grade 3 toxic agro between levels 1 to 4 of toxicity.
Toxic spill in the United States: what happened to the overturning of the train that nobody talks about
"It is used to control grasses, especially Lolium rigidum. Although impure samples have a yellowish appearance, the compound is colorless," they detailed.
On social networks, motorists who passed through the area expressed their anger when they saw the truck leave a White smoke behind the trailer that covered the area.
Neighbors of Ituzaingó reported symptoms
Also Ituzaingó residents reported sore throat, eye irritation and breathing difficulties.
Toxic Water, Health Problems, and Dead Animals: The Effects of Ohio's "Chemical Chernobyl"
Bad odors were felt from 30 blocks around the accident, for example, at the Ituzaingó train station, where several people's throat "itched".
In the images it was also seen how the toll employees had to come out of their booths to get some fresh air and they had bottles of water in their hands.
An operation carried out by the firefighters allowed the affected area to be cleaned with pressure washers, while the Environmental Police of the Province of Buenos Aires also worked.
ED




Source link