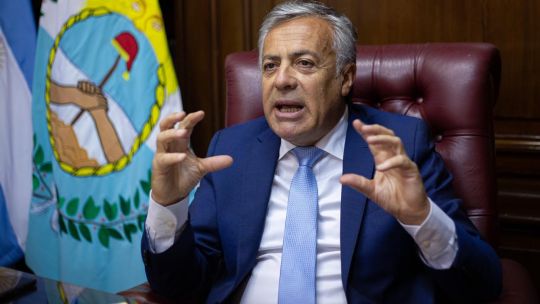 Alfredo Cornejo will once again go for the governorship of Mendoza. There, the PASO will take place on April 30. Meanwhile, the radical senator insists on achieving crossed formulas within Together for Change in the presidential election to have a "coalition spirit", unlike what happened in 2015. And he clarified that he will support Gerardo Morales or Facundo Manes as long as they have chances. "I don't want a UCR with 3 points like it happened to us against [Mauricio] Macri and [Elisa] Carried"he warned.
Perfil.com: On Thursday you were with María Eugenia Vidal. How was the meeting?
– It was very good. She is taking a tour of the country. She asked me to visit emblematic places in Mendoza. She came to support some candidates for the municipal elections. That's an accolade because a part of the PRO led by Omar De Marchi does not participate.
– Is the De Marchi sector playing outside?
– Signed the front but does not participate. He did not put candidates, he does not compete in the 7 departments.
– Does this end with De Marchi with his own list?
– There is time for an agreement. Hopefully it's inside. I can't vouch for him. Cambia Mendoza is correlated with JxC.
– When I interviewed him days ago, He told me that Cambiemos does not exist in Mendoza, that there are sectors of Libres del Sur and the Renewal Front.
– I don't want to argue with him. The argument is ridiculous.
– Luis Petri, another radical, will play within the alliance. Would that be the internal one then?
– Luis does the right thing. Omar already went inside against Rodolfo Suárez (current governor) and lost 75% to 25%. He attributed that we beat him with the device. He said that if there was a single ticket he would win. Now there is that and I PASS them, but he does not want to compete.
For the Presidency
– Why did you decide to go for the governorship and not for the presidency?
– Rodolfo asked me [Suárez]. I was asked by eight mayors of Cambia Mendoza. We are part of a team. I still earned respect at national tables.
– Going national. How do you see Gerardo Morales. The vintage photo with Patricia Bullrich bothered him.
– I don't know how much the photo bothers you. Radicalism has no perspective outside of JvC. Inside it has the possibility of growing to build alternation to Kirchnerism. The STEP, in 2021, were the best tool. I was party president. We went to PASO in 17 provinces. Of that total, in 16 PRO and radicals were mixed, and they competed against each other. There was the true spirit of coalition that we did not have in 2015. In those 16 provinces, the percentage in the PASO was lower than the general one.
– Is your candidate for president Morales or Bullrich?
– As a radical that I am, I will always prefer a radical. The point is if we have a radical with possibilities. I don't want a UCR with three points like in 2015 [porcentaje que obtuvo Ernesto Sanz]. I don't want that photo.
– Can Morales be those three points?
– I'm not saying it because I don't know. I don't know today. There are still two months of campaign to see what happens there. I reiterate what I said a year ago: cross formulas in competition would generate cooperation.
– A radical would tell you "we are going to be the vice of Patricia and Horacio"?
– No. Because if there is a competitive one we vote for it. Morales and Manes think the same. Gerardo's speech at the Gran Rex theater was good. It was in the right direction. Antikirchnerista, productivist.
Second time
– Should Mauricio Macri play? Complicated?
– He contributed to maintaining unity, although he does not like some things about the candidates. Then whether he wants to be or not, he is in the right of him. He has more experience than everyone, but he is the one who could align Kirchnerism behind the polarization. The K want to explain the Argentine failure of decades only by the four years of Mauricio. When one sees the mega-swap of [Sergio] Massa… I have never seen anything as wild as this mega-swap in Argentine history. They told us about the 100-year debt and they do something infinitely worse.
– Is there a chance to modify it if they win?
– No, there's no chance. That is outrageous. For this reason, the summons request to Miguel Pesce [presidente del Banco Central de la República Argentina].
– Do you think Macri deserves a second chance?
– That is not given by anyone, except society. Society gave Kirchnerism a second and third chance.
RI/nt




Source link