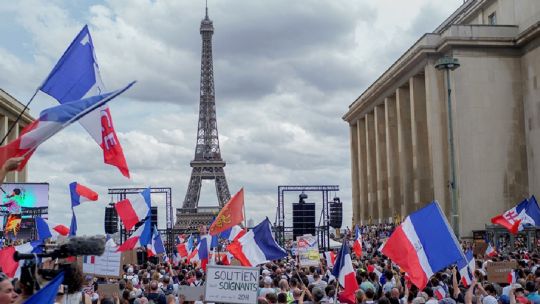 France lived the eleventh jornate protests against the unpopular pension reform approved by decree of the liberal president Emmanuel Macron. Large number of detainees and injured, including security agents.
Almost 2 million people registered in the streets this Thursday, April 6. Meanwhile, French unions called for new strikes and protests for April 13, one day before the expected ruling of the Constitutional Council of France on the reform.
In Paris the tension rose after a flare set fire to the awning of the La Rotonde restaurant, a place appreciated by Macron.
In Nantes, police fired tear gas at protesters, as in Lyon and Rennes. In addition, groups of workers occupied the headquarters and facilities of some companies and multinationals.
High schools and universities blocked, some trains paralyzed. Employees of the cultural sector displayed a banner with the motto: "No at 64" at the Arc de Triomphe in Paris. Firefighters also joined the protests.
What is the pension reform of Emmanuel Macron?
The Macron administration calls for the retirement age goes from 62 to 64 years by 2030. While, ahead pBy 2027, the requirement of computing 43 years to collect a full pension.




Source link