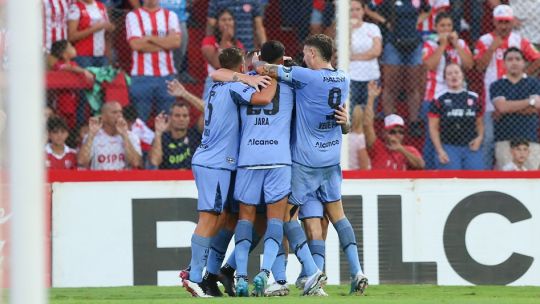 Football gives incredible, unforgettable moments, even when it seems that the show seems mediocre. Soccer is beautiful for those eternal moments. Moments that make you stand up and applaud. Belgrano in Santa Fe gave away one of those beautiful eternal moments. He thrashed Unión, but everyone, for many years, will talk about the great goal of 'Caco'.
The 'Pirate' perhaps did not make a great game in the 3-0 win against 'Tatengue', as a visitor, for the tenth date of the Professional League; but he scored three incredible points, which had a great goal from Bruno Zapelli, the bestial Olympic goal from 'Caco' García and the historic 55 goal from Pablo Vegetti. A combo worth remembering.
The game started out entertaining, but then it went flat. Give away yawns. Union put pressure, Belgrano resisted. Until after 30 minutes, through VAR, Yeison Gordillo saw the red card. And deserved by a tremendous kick. Then, with a man less in the rival, the Celestes risked a little more and ten minutes later Bruno Zapelli scored a great goal from outside the area that broke the drowsiness. Zapelli, the class of an international level player, with his elegance and shot opened the game.
And while everyone was still praising the beauty of Carlos Paz's kid's goal, 'Caco' Garcia left everyone in the Santa Fe stadium and those who watched on TV, and those who followed him on social networks, and those who reported on radio and all those who like football, with their mouths open. An innocent corner kick turned it into a work of art: Matías García rubbed the lamp and scored a great goal. In the last added minute, Caco nailed an Olympic goal. With a lot of chanfle, he sent her to the bottom of the 'Tatengue' arc. It was perfect, he brushed the crossbar and straight into eternity.
The second half was a changing process. Belgrano took care of what he had as he could. And when the match was extinguished and chants came down from the stands against the players and leaders of the local club, the 'Pirate' mercilessly increased the score, through a penalty that Vegetti effectively executed. The captain of Celeste, in this way, established the 3-0 and reached 55 official goals with Belgrano, remaining as the club's third all-time scorer in AFA and among the 20 top scorers for "Pirata" since 1905.
Those directed by Guillermo Farré won again after three dates and rose to ninth place with 15 units. On Wednesday they receive Huracán, with the idea of ​​continuing adding and establishing themselves in First Division. It must improve a lot, but we will always remember this game, for the great goal from 'Caco'. Are you already competing for the Puskas Awards?




Source link