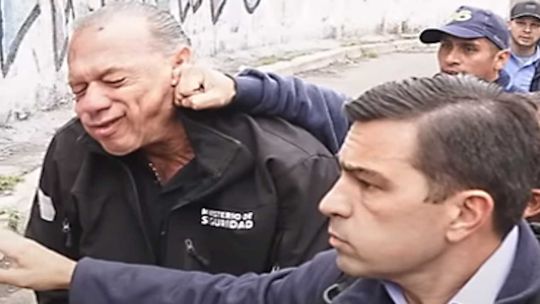 After the attack he suffered, the Buenos Aires Security Minister, Sergio Berniaffirmed this Monday, April 3 at night that They warned him that he could be the victim of an "ambuscade" when he went to bus protest that took place near La Matanza. He said that there were "people who came to provoke", but clarified that it's not "pimp"" and then he trusted that "there are prosecutors who have what they have to have and investigate."
Berni reiterated that he has "pain in his soul" for the crime of the bus driver Daniel Barrientosassassinated in the early hours of this Monday in Viceroy of the Pine (La Matanza), but considered that "was shot, brutally executed", and that "the witnesses say it was not a robbery".
"Today is very striking; no one steals with two support vehicleswith weapons that are not usual, which has very expensive ammunition It is not a simple robbery. These situations happen when the victim defends himself, but here there was no money, there was nothing, they only took a wallet and from the stirrup they executed a worker," Berni described in statements to C5N.
Berni pointed to the Buenos Aires Police and said that Burzaco should not call him "because he is going to eat a puteada flower"
At the same time, indicated the Minister of Security of the City of Buenos Aires, Eugenio Burzacodid not call him to show solidarity and warned that "It's better not to call me because he's going to eat a puteada flower."
"I don't need explanations, I know too well how this works. This is not done, you cannot put someone's life at risk", he stressed.
He also questioned the former Minister of National Security Patricia Bullrichwhom he never saw "in a conflict" and stressed that these issues "cannot be fixed from a desk".
Unemployment bus workers attacked Sergio Berni: they threw bottles at him and the Police repressed to rescue him
In this sense, he recalled that the former head of Security of the province of Buenos Aires during the macrismo Cristian "Ritondo had promised that the groups would have cameras and that they would transmit directly", but "none of that happened". In addition, he pointed out that during the government of María Eugenia Vidal in the province, the salary of the Buenos Aires police "dropped 29 points."
Regarding his speech, he said that when he arrived at the protest site, at General Paz and Juan Manuel de Rosas streets, "they told me 'this is an ambush, go away'and when I saw the faces I realized that there were people who came to provoke; when I did 100 meters I knew it was going to end like this."
"While I face them, I look for the wall to find a protected flank, but the will to continue there did not prevent me," he continued, recounting the moments in which he was attacked and suffered traumatisms and injuries that demanded that he be treated at the Churruca police hospital. .
Videos | This was the moment when they hit Sergio Berni
Along these lines, he added that after those critical moments "we were going to meet, we were in the middle of the process, we were looking at where we were going to meet; for 20 minutes we were able to calm the situation, when everything was ready the Infantry appeared and I ask you please to do not advance, I leave the wall", arrived the Buenos Aires City Police and "has practically taken me into custodywhen he explained that he wanted to stay.
"In this environment, everything merges: the really hurt, the political activists, the inmate of the UTA (the driver's union) which is terrible, the violent and cowardly, all together in a herd," he described.
Regarding the aggressors, Berni said that "I am not a pimp, but in the same way that when there are prosecutors who denounce illicit enrichment, there must be prosecutors who have what they have to have and must be investigating; surely the turns of life will allow us to face to face in the street".
He also mentioned the attack by a Buenos Aires police officer on a protester: "I go out to protect a worker who was hit with a shield in an unspeakable way".
Berni warned that "there is a methodology of incitement to violence by political sectors" and maintained that "in Argentina we cannot continue with this level of violence."
ED




Source link