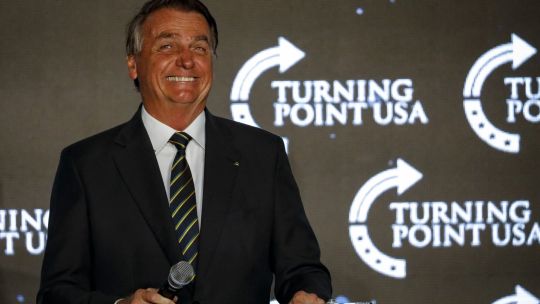 After three months of vacation in Florida, it is expected that Jair Bolsonaro returns to Brazil on Thursday to lead the opposition and challenge the left-wing government of Luiz Inácio Lula da Silva.
The right-wing movements Bolsonaro inspired have eagerly awaited the return of the former president, who narrowly lost re-election despite garnering more than 58 million votes last year. Bolsonaro's Liberal Party hopes he will rally both allies in Congress and supporters across the countrygiving a boost to opposition efforts just as problems are mounting for the Lula Administration.
But the return also carries risks for Bolsonaro, 68, who faces a wave of lawsuits and judicial investigations, including an investigation into his alleged involvement in the January 8 insurrection attempt in Brasilia by right-wing groups that did not accept his defeat in the October elections.
Bolsonaro too faces scrutiny over more than $3 million in jewelry that one of his allies tried to smuggle into Brazil after an official trip to Saudi Arabia while he was still president, and new reports this week that he may have tried to hide other presidential gifts from the public eye.
Brazilian Justice investigates Bolsonaro for jewelry smuggling
Although Bolsonaro managed to attract attention from abroad, will have more power to lead the opposition to Lula from Brazilsaid Nara Pavão, professor of politics at the Federal University of Pernambuco.
"Bolsonaro has tried during this self-imposed exile to play the martyr to keep his group together," Pavão said. "But the visibility of him decreased."
"His return will have many consequences, and the first is that it will give Bolsonarism more strength," he added, using the popular name of his political brand.
Despite legal concerns, Bolsonaro has insisted during his vacation in the United States that he would eventually return to take over the movement.
"We are returning to normality," he said in an interview with Brazilian media this week. "I will meet with the party, which has about 20% of the seats in the lower house and the senate, and we will discuss what our strategy is."
Bolsonaro will return to Brazil in 'Messiah' mode: he has a divine "mission" that "has not finished" yet
The former president's plan to live in Brasilia, a few kilometers from the country's center of power, may also help him spearhead a more effective opposition to Lula. Almost 100 days after the start of his Administration, the leftist leader faces several problems: the possibility of an economic recession, he has been in a prolonged confrontation with the central bank for weeks in an effort to lower interest rates and has not yet had a chance to test the size of his base in Congress before introducing key proposals to change the Constitution.
But Bolsonaro's return could also reinforce political divisions in a way that could help Lula, especially among more moderate Brazilians, Pavão said.
"A large part of the support that Lula obtained in the elections came from rejecting Bolsonaro," he commented.
Once established in Brazil, Bolsonaro's allies expect him to start touring the country. Michelle Bolsonaro is also organizing rallies throughout Brazil and considering a possible candidacy if election judges rule her husband is ineligible to run again as a result of his legal troubles, according to two people familiar with the plans.




Source link