After what Javier Miley intimate to the NOSIS platform by a report that he defines as erroneous that he released about his labor record, the liberal economist Roberto Cachanovskywho had published the data on his social networks, charged again against the deputy of La Libertad Avanzaay threatened to take him to justice.
The site manager EPT (Economía Para Todos) published a series of messages on his Twitter account Twitter accused the national legislator of plagiarize your books and "using lies systematically." In this sense, she asked him to publicly retract his statements and went for more, reminding him his dispute with Carlos Maslaton and having worked in the teams of the former Buenos Aires governor Daniel Scioli.
"Advisor for 26 years" vs. "only 6 months": war between Roberto Cachanosky and Javier Milei for working "for the caste"
"¿Was the NOSIS information credible?? In the case of Javier Milei, yes, because he uses lies systematically. Remember that he published various newspaper articles plagiarizing and he defended himself by saying that authors are not cited in newspaper articles," Cachanosky began by saying.
"To say that authors are not cited in the notes is totally false," he said, at the same time that he supposedly pointed out that he had plagiarized part of the introduction of his book "4,000 Years of Price and Wage Controls"and a part of"Pandenomics".
"He says that he lives by publishing his books and anyone who has published books knows that, unless you live like a homeless, copyright is currency in Argentina. I published three books that sold very well, and I know it. The same thing happens to very prestigious authors," he continued.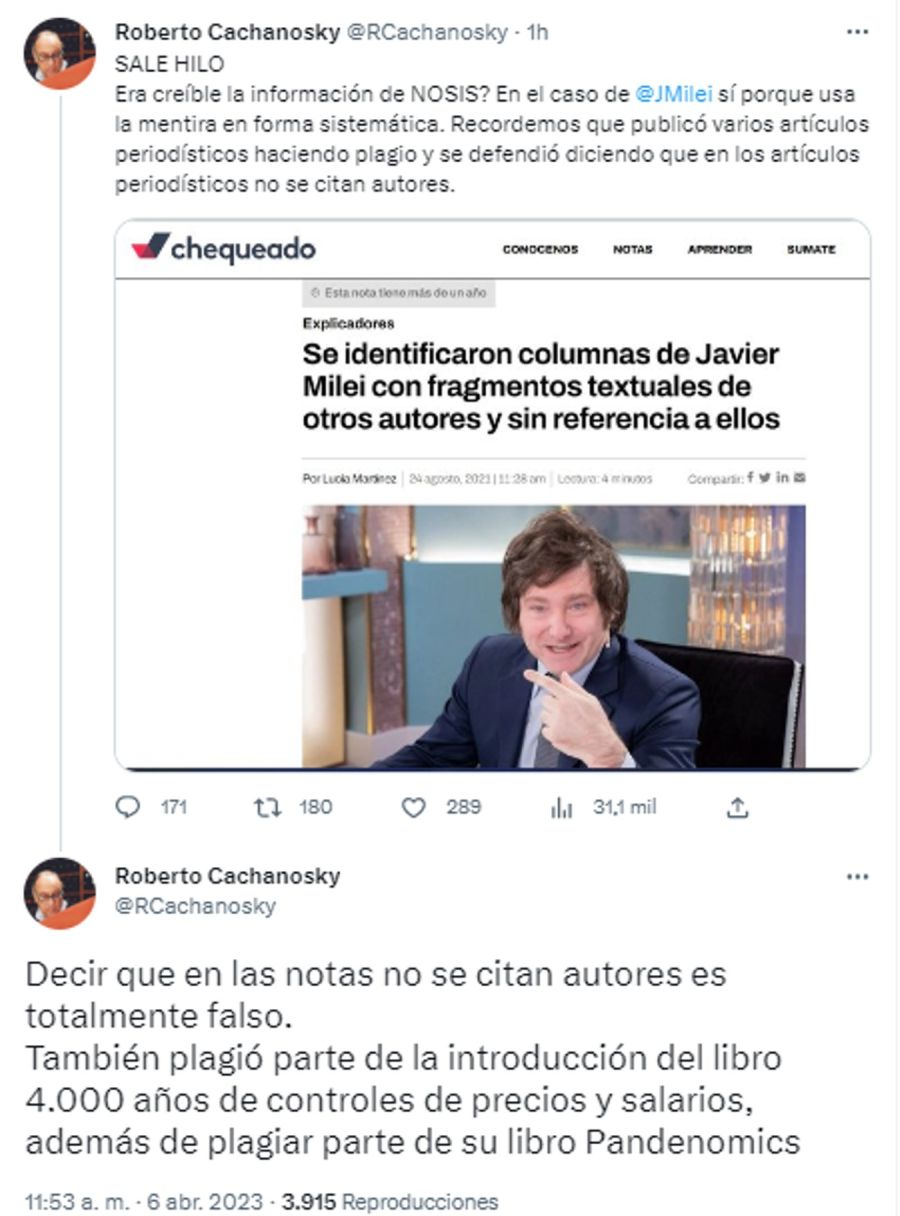 He also questioned whether the libertarian leader charges between 10,000 and 15,000 dollars for the conferences he gives, arguing that this first value is the maximum that a Nobel Prize winner in Argentina could charge. "The same, as a public official should show that income if he actually charges them," he added.
In addition, he denied a series of statements by the deputy, in which he criticized Cachanosky amid insults for "having had the apparatus of liberalism at your disposal" and not having made the space grow. "I never had it. And if he says that I had it, let him say when and with what device, "she retorted.
Another of the points on which he sought to contradict Milei was in the monthly raffle that makes your diet as a member of the lower house. "To be able to raffle it, you first have to collect it. Or raffle something that does not belong to you? Therefore, the reality is that he campaigns politically with taxpayer money. That's called POPULISM".
On the other hand, Cachanosky affirmed that the libertarian referent was an advisor to Daniel Scioli y Carlos Zannini in the 2015 presidential campaign. Milei had confirmed in an interview with La Nación+ in June 2022 that she was part of the work team of the current Argentine ambassador to Brazil.
"And he argues that Scioli, who was with him Kirchnerism, had a liberal line. This is already laughing. To say that Kirchnerism has an internal liberal line shows as far as you can invent things"Wrote the economist in his message thread.
"One more, nor did he denounce Carlos Maslatón when he said that he received suitcases from (the Minister of Economy Sergio) Massa. Funny that, if he's clean about it, he hasn't reacted like he did immediately to NOSIS," he later said.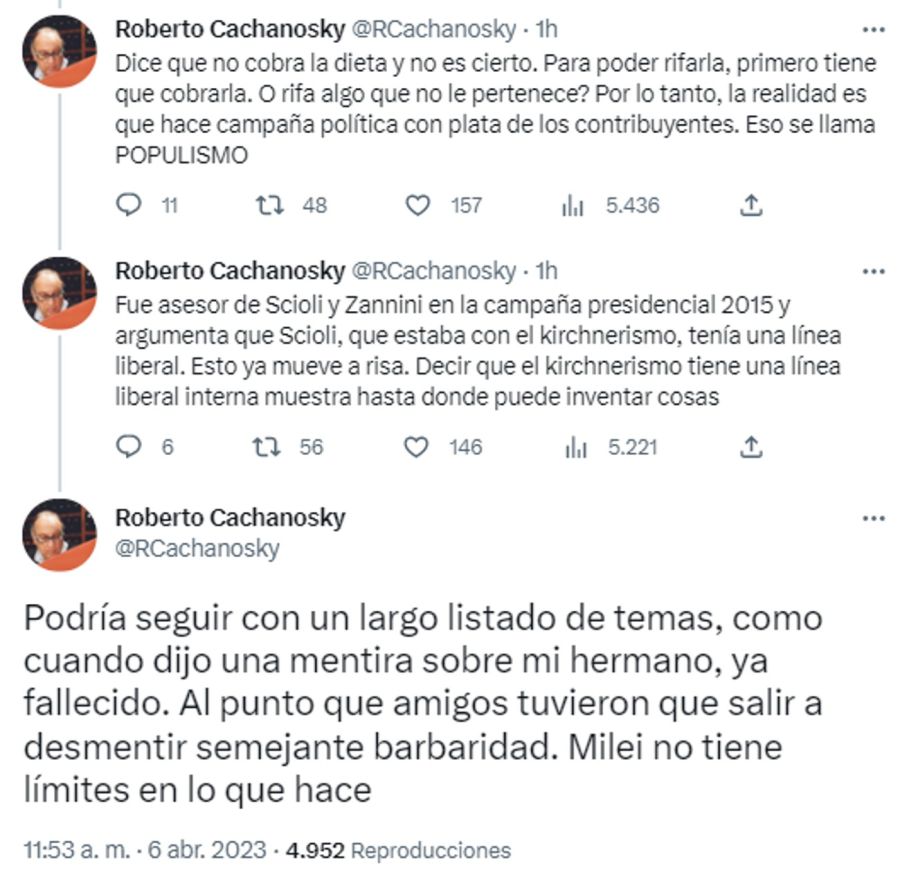 "Everything is in the hands of my lawyers"
Towards the end of his post, the EPT director insisted he did not lie about Milei's employment registration with the state. That is why he stressed that when he saw the NOSIS publication, he reviewed the information with three different people and that data was included. "It was perfectly believable with the CV of lies that Milei uses", he added.
"There are so many public insults that he dedicated to me that I suggest you apologize. Everything is in the hands of my lawyers and my approval is enough to make a judgment that in his life he will forget. I hope he publicly retracts the lies he told about me," concluded the author of the argentine syndrome.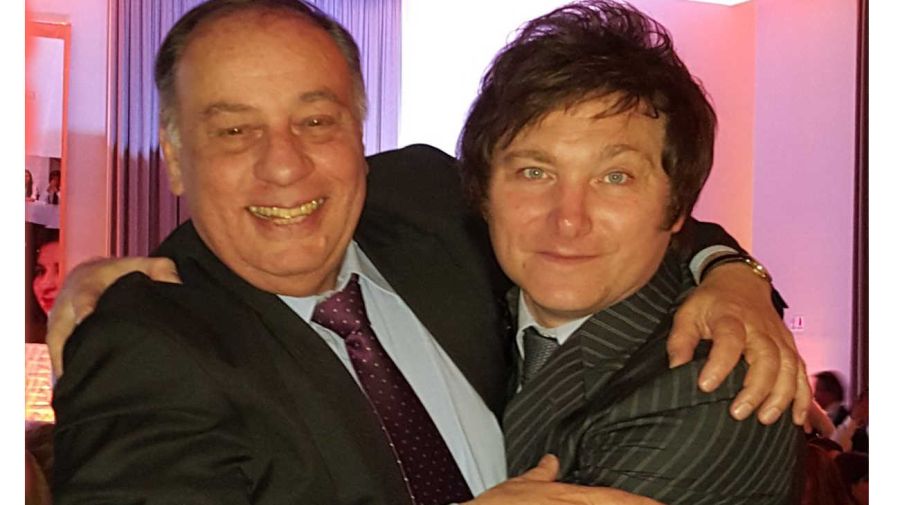 A few days ago, Cachanosky had published a tweet with a screenshot revealing that the deputy had already worked for the National Congress for 26 years. PROFILE was able to verify that this information had not been edited, but rather the registry itself already had the wrong data.
From the environment of the presidential candidate, they assured this medium that what happened in 1994 was true, but that said work lasted only six months that same year, as an adviser to the former repressor and governor of Tucumán. Antonio Bus.
"It was a three-month contract that was later renewed for another three months., linked to two bills, one linked to lemon and the other to sugar, which are the two main economic sources in the province of Tucumán. He then stopped working for Congress until 2021, when he was elected a national deputy," they said.
FP CP




Source link