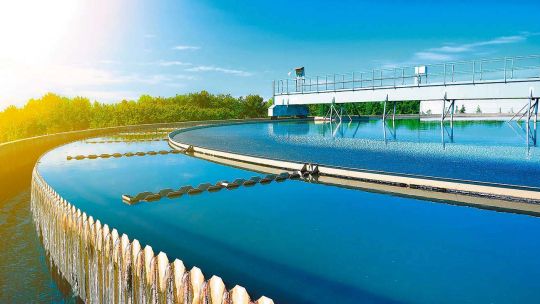 A circular economy is an economic system that uses waste as a resource, reusing it over and over again, instead of throwing it away (for example, by recycling plastic).
One circular economy approach that can be used to address a growing regional crisis is the reuse of wastewater.
American water. Throughout the Americas, fresh water continues to dwindle, due to population growth, overuse, and the effects of climate change. Although some at-risk communities are more exposed than others to direct problems of water scarcity, the effects will spill over into all aspects of society, from health and hygiene to nutrition and food security, including the economy.
Therefore, wastewater recovery and reuse facilities have enormous potential to close the water stress gap in the region. In addition, wastewater is a valuable resource from which water, energy and nutrients can be extracted to help meet people's demands for water, energy and food.
The problem is that, according to the World Bank, only 30-40% of the wastewater collected in Latin America and the Caribbean (LAC) is treated. Lack of political will, restrictive and fragmented legal frameworks, lack of knowledge and capacity sharing across borders, and negative social perceptions are just some of the barriers that limit the expansion of wastewater treatment and reuse. in LAC.
Collaboration. However, these challenges can begin to evaporate if national and local leaders, industry specialists, innovative scientists, community groups, and other stakeholders collaborate across borders through science diplomacy.
Water diplomacy has a long history, as many water sources are shared across borders. Given the risk of cross-border conflicts, mass migration and economic turmoil if forecasts of water scarcity hold true, it behooves the region's leaders and experts to harness science diplomacy to start promoting wastewater reuse.
Using the World Bank's report on water resources, "Wastewater: From Waste to Resource in a Circular Economy Context", as a guide, a multinational diplomacy forum should be established that convenes a transdisciplinary group of policy makers, civil servants, industry specialists wastewater managers, scientists, and other relevant stakeholders from across the Americas to share innovations and gaps, while beginning a political path toward committing to reuse wastewater.
Nations could use this forum to work together on capacity building while taking advantage of existing networks. Higher-income countries with the necessary scientific expertise and technology should provide funding, mentoring, cross-training and infrastructural support appropriate to context and resources.
The forum could also update national and cross-border policy debates on current trends and innovative approaches that require less infrastructure. More importantly, the forum can provide a space for an open dialogue about cultural constraints or public perceptions of wastewater reuse, as these are likely to vary from culture to culture and from country to country. community to another.
Aim. The ultimate goal is to create a set of practices across the Americas to support wastewater reuse as a shared political agenda, but looking for opportunities, in order to find diplomatic solutions. Ultimately, it is about building relationships around a shared concern and developing national water strategies that take into account the needs of our neighbours.
Since water is essential for a healthy and productive life, it is also essential that we review historic diplomatic agreements and work across borders to reformulate, build on, and encourage new agreements for a future with fewer resources. After all, as the writer Robert Kandel reflected in his book Water from Heaven, "every time you eat an apple or drink a glass of wine, you are absorbing water that has cycled through the atmosphere thousands of times since you were born."
*Veterinary researcher in scientific communication and diplomacy. Scientific and Technological Policy Scholar of the Inter-American Institute for Global Change Research (IAI). Collaborators: Nathalia Tejedor, Odiney Álvarez-Campos, Osawai John, Sebastián Riera.




Source link