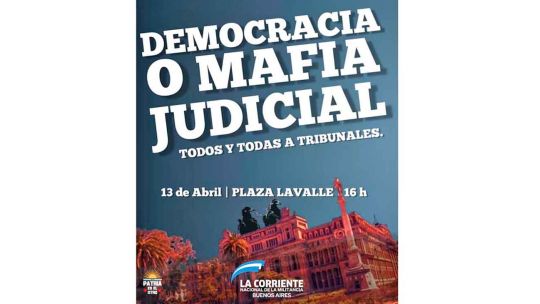 Different currents of the ruling party headed by the Buenos Aires PJ called for a march next Thursday to Plaza Lavalle, in front of the Courts, to demonstrate against what they consider the electoral proscription of Cristina Kirchner.
The idea arose during the last meeting of the Buenos Aires Justicialist Party led by deputy Máximo Kirchner, where there were also questions about the judicial ruling that favors the City of Buenos Aires in the distribution of the co-participation.
The slogan of the day is "democracy or judicial mafia", a concept that had already begun to be deployed in the March 24 march, when human rights organizations had asked not to mix the reasons for the call 47 years after the coup. military civic of 1976.
The date of the march is not accidental and is linked to the seventh anniversary of the call for Cristina Kirchner to testify in Comodoro Py for the future dollar cause, in which she was later dismissed.
In addition, it is part of the sentence against the vice president in the Roads case and the alleged intention of the Judiciary to put a brake on a possible presidential candidacy, which has already motivated a counter-offensive by his followers to request that he appear in the PASO next August .
"To support the impeachment of the Court. So that judges and prosecutors of the Lago Escondido gang are removed. So that the persecution and the proscription cease. So that the right to defense is not threatened. For an impartial, independent and transparent Justice", summed up the deputy Leopoldo Moreau the spirit of the mobilization.
For its part, on Wednesday the Metropolitan Council of the Justicialismo, the Buenos Aires wing of the party, met and decided to accompany the mobilization on Thursday. "Enough of the ban! Let's defend democracy", says the flyer sponsoring the movement.
Senator Oscar Parrilli was one of those who explained the pro-government fear about judicial action. "Does anyone have any doubts that Cristina would not be allowed to assume office if she wins the elections?" He asked himself.




Source link