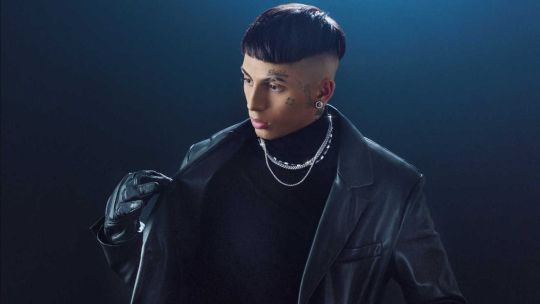 After announcing his return with an enigmatic trailer which premiered in theaters in Spain and Argentina, as well as in the eighth edition of Lollapalooza Argentina, one of the main exponents of music in Argentina, KHEA, presents "Eclipse", its significant new single, which represents the beginning of a new stage in his musical career and where he reflects, after being away from the stage and music in general for almost a year, everything he has learned and healed in recent months.
Released on the Young Flex/Interscope Records label, on "Eclipse" we delve into a sound that begins melancholic from a few deep guitar chords until it reaches a powerful rock that extends throughout the entire song. The song was composed by KHEA during one of the most difficult moments in his life where his emotional health was compromised, however music has been a form of catharsis and relief for the artist. Through the lyrics, he expresses a feeling of uncertainty in which he was living when he was going through a depression where he did not recognize himself in front of the mirror, there was no light in his life and he felt that nothing made sense in that moment. The 'eclipse' is a metaphor for how all these negative feelings put out the light on him. Without a doubt, it is a subject to reflect on.
"I decided to look for a new north in my life and in my career and with this project I take the first step. This song is for those who are looking for their way, for those who illuminate the darkness to give space to the true light, with this song I want to send you my energies and tell you that you are not alone, that your souls guide you to your own destination. I was like this for a long time, not knowing what to do with my life, sometimes even not wanting to get up, Eclipsed by my mind, by the system that sometimes drags you down, by the anxiety that many of us suffer today. It's okay to take a break, it's okay to be bad, it's okay to be locked in your room fighting your demons… as long as you promise to be a warrior and come out of there stronger and with more wisdom to continue living, "said KHEA.
With more than 8 billion streams across its music catalog and 9 million monthly listeners on Spotify, KHEA has raised Argentina's name high with several major releases including "Ayer Me Llamó Mi Ex Remix" featuring Prince Royce, Natti Natasha and Lenny Santos, a topic that marked the #1 trend in several Latin American countries, has been placed in the Top 50 on the Global Excl list. US Billboard chart and Top 100 on Billboard's Global 200 chart. In addition, his songs "Wacha" with fellow Argentine singer Duki, who debuted #5 on Spotify's Top Debut Songs Global list and set a #1 trend on YouTube in 12 Latin American countries, "Te Necesito" with Argentine singer-songwriter María Calf, among others. In the same way, he has participated in multiple global hits such as "She says" with Tini, KHEA: Bzrp Music Sessions, Vol.34 with Bizarrap and "She Don´t Give a Fo" with Duki, "leave me calm" with LIT killah and Argentine trap anthems like "Knocking Down the Club – Remix" with Neo Track, CRO, YSY A, Cazzu and "Besides My – Remix" with Rusherking, Duki, Maria Becerra, Lit Killah and Tiago PZK.




Source link