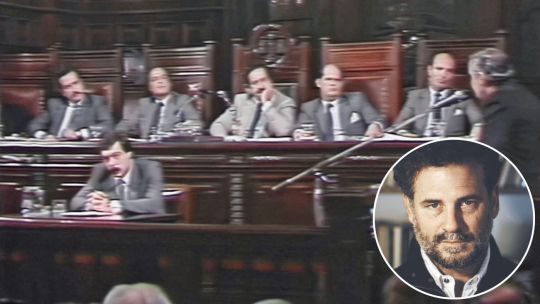 When the oral hearings for the Trial of the Juntas ended, President Raúl Alfonsín commissioned Carlos Somigliana to make a miniseries, for which the playwright set aside eleven hours of filming. The military uprisings against democracy in 1987 stopped that project; Somigliana also died that year. This clipping contains all the images and sequences that were publicly known, but the total record that was recorded in those days adds up to 530 hours.
When Ulises de la Orden realized that all this material existed, in Argentina and also a copy in Oslo (Sweden), he understood that there could be a film there. After some twists and turns, El Juicio was able to finish and it premiered at the Berlin Festival, which ends today. PROFILE spoke with the director and also with the editor of this documentary, which in Argentina can be seen at Malba starting next April.
"The Trial of the Juntas was an extremely important event in our history that was somewhat forgotten or overlooked," says Ulises de la Orden. "The idea for 'El Juicio' began to work in my head in 2013. There I start reading and researching, and I immediately take note that there are 530 hours of unpublished material. Thus, the two things begin to come together: the feeling that there is an event in our history that is not told, and that there is also an enormous amount of audiovisual material to view and to think about whether there is a film there". For his part, Alberto Ponce, the film's editor, says that they made twenty-one sets in total, until they reached the final cut, arranged thematically. This choice responds to a way of showing and narrating that event so central in recent Argentine history that, for various reasons, had not yet been filmed.
Confluence. The premiere of Argentina, 1985, by Santiago Mitre, put in the center of the scene that trial that took place in the National Chamber of Federal Criminal and Correctional Appeals of the Federal Capital that marked a historical precedent that exceeds the borders of our country . "Argentina, 1985 is a great film, which fulfilled the function of opening this issue for society," says De la Orden. "Today everyone in Argentina knows that the Trial of the Juntas existed, as well as a large part of the international press. The Judgment goes deeper into the subject and I think there is a very interesting complementarity there".
In dialogue with PROFIL, Ponce, the editor and as such an important piece in the assembly of El Juicio, explains that "in documentaries, the challenge is always to find a narrative structure. Ulises had done several versions of the script, based on what he had seen and read, but as we progressed we found many new things. Selection, hierarchy, order and rhythm: that is my method. We see what works for us, we give it a hierarchy and then we begin to assemble".
The thematic progression of El Juicio makes it fluid and didactic. The titles of the chapters are extracted mainly from the allegations that are tracing this history marked by a horror of a superlative scale and that account for the enormous impunity and cynicism with which the military was handled, both from the anti-constitutional power of that time to the subordinates, going through the military leadership that were not contemplated in this specific process but that, as is known, in point 30 of the ruling it was ordered that all its perpetrators be prosecuted (N. de la R.: the trials continue until today) . With their backs turned, some witnesses pass by and recount their traumatic experiences, but El Juicio is not limited to giving voice only to them; Torturers, politicians, the military and accomplices from various spheres approach the podium and give their statements, while, for example, José María Orgeira, defense attorney for the repressor Roberto Viola (and de facto president in 1981), gives a separate show: his foolish comments , his reactions and his haughty poses paint him as a great villain. And the prosecutor Julio Strassera, with his own interventions, is in that sense a perfect counterpoint. This dynamic enables a slight and effective load of humor that is quite unexpected.
Process. The selection of the material implied a path with several stages. After receiving the refusal from Public TV and the General Archive of the Nation, the director found Memoria Abierta –the alliance of human rights organizations– thanks to which it was possible to access the archival material."Once we had the material", says De la Orden, "since Memoria Abierta became an associate producer of the film and authorized us, based on their efforts before the Federal Chamber, to use this material, we began to work there. The first difficulty was the file extension: we are talking about 530 hours. It took us nine months to see it, plan it and catalog it, working three from Monday to Friday. That was the great challenge: to transform that gigantic file into manageable material to edit a film".
In race. The anecdotes of the edition of those nine months left many anecdotes and sensations. Today El Juicio began an international tour in Berlin with a repercussion for now sober but that will surely be enhanced by the one that Argentina: 1985 continues to generate. "We are going to open it in April at the Malba and the intention is to open it in the most federal way possible," says De la Orden. "The idea is to organize screenings in cities and towns throughout the country, especially commemorating these forty years of democracy and to be able to talk with the public, ideally in their fourth or fifth year of school. (…) In any case, I believe that the only role that films have is to tell a story and the better told it is, the more power it will have. After what the public does with that story, welcome."




Source link