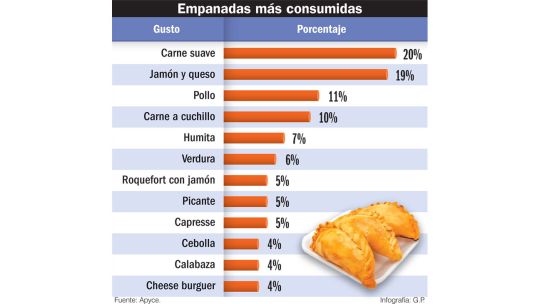 Soft, spicy or knife-cut meat. Ham and cheese, chicken or capresse. Bacon and plums. Of humita or roquefort. Fried or baked, empanadas became one of the "emblems of Argentine gastronomy". Fanaticism reaches such a point that a study by the Association of Pizzerias and Empanada Houses of the Argentine Republic (Apyce) ranks the empanada as the third most consumed food in the country behind pizza and barbecue. In addition, traditional Argentine food is included in the top five of the most significant meals together with milanesas and pasta.
In the same direction, and together with one of the most used delivery Apps in our country, Apyce developed a ranking of the most requested flavors. According to this report, the podium is made up of soft meat empanadas, with 20%, followed by ham and cheese empanadas, with 19%, and in third place, chicken empanada, with 11%.
According to this ranking, in fourth place are the traditional meat empanadas with a knife, with 10%, and then humita empanadas, with 7%. Vegetables are not far behind, with 6%. While those of roquefort with ham, spicy meat and capresse continue with 5% preference.
Finally, the onion, pumpkin and cheeseburger empanadas fight the decline: they were chosen by only 4% of Argentines.
By regions. The empanada is one of the most popular foods that are part of the identity and gastronomic culture of each region of the country. In Catamarca, Jujuy, La Rioja and Salta, for example, the meat is mixed with potato cubes, while in Jujuy they usually add peas.
In Tucumán, the beef matambre filling is very popular and the proportion of meat is higher than that of other ingredients.
It is also common to use chicken as a filling. In the NOA and part of the Litoral, jerky is added, and in some regions, such as Santiago del Estero and San Luis, raisins and olives are used.
According to the Argentine Ministry of Agriculture, Livestock and Fisheries, in 2010 it was estimated that Argentines consumed 10 million empanadas daily. The data arose from analyzing the number of empanada tapas sold at the "industrial" level during that year.
The result showed that each Argentine consumed an average of 1.4 kilos of fresh tapas annually.




Source link