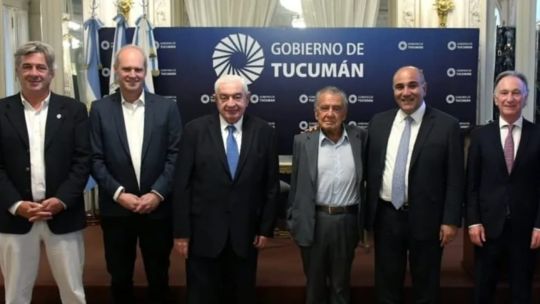 The referents of the main business chambers of Argentina enrolled in the group of 6 began to tour the provinces in order to assess the progress of the regional economiesin a year where the Drought has a very strong impact on the agri-food sector.
The objective is to have first-hand information on the behavior of the different activities according to the regions of Argentina.
With this objective, the leaders of the Group of 6 traveled to San Miguel de Tucumán to hold a meeting in which investment opportunities were analyzed and the productive development of the province was highlighted.
They were received by the governor of Tucumán, Juan Manzurand the lieutenant governor, Osvaldo Jaldo.
Who are the businessmen of the Group of 6?
The business delegation was made up of Eduardo Eurnekianpresident of Corporación América and vice president of the Chamber of Commerce; Carlos Weissof the Chamber of Construction; Nicholas Pinopresident of the Rural Society; Javier Bolsico, head of the Association of Argentine Banks; and Adelmo Gabbiof the Buenos Aires Stock Exchange.
The head of the UIA, Daniel Funes de Riojacould not be from the game due to a personal problem.
While the meeting was taking place in Tucumán, the businessmen closely followed the announcements about incentives to increase exports by the Minister of Economy, Sergio Massa.
ED




Source link