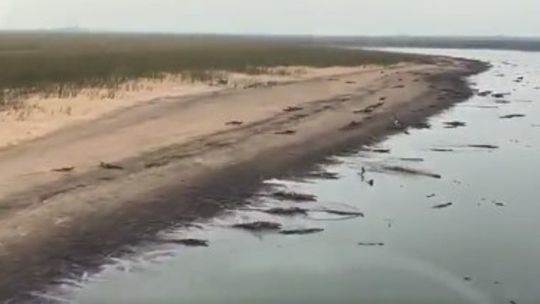 The situation in the province of currents due to the lack of rain it is desperate. The drought caused some grasslands to start burning and the alligators that inhabit those places had to flee towards a river with little water flow to avoid being hit by the fire.
the local environmentalist Luis Martinez spread on his account Twitter the images of the group of reptiles fleeing rapidly towards the water, while at the bottom of the grassland the smoke of an igneous focus can be observed.
The clip was taken from the air over the Corriente River, a water channel that recently made headlines in the province for losing its flow.
The expert described: "In the image we can see thousands of alligators among other species that take refuge from the drought in the little that remains of flow in this river".
Fires in Chubut: firefighters fight against the four outbreaks that affect the Patagonian province
Finally, he closed: "The impact of the drought and the fires in the province they do not give truce".
The Emergency Operations Center reported that there are 17 sources of fire throughout the province of Corrientes.
"The drought is historic"
Alejandra Boloqui, president of the Chamber of Tourism of Corriente and member of the Cambyretá Foundation for Nature, spoke weeks ago with Jorge Lanata on the air of Lanata without filter (Radio Miter) and explained the seriousness of the lack of rain.
"The drought is historic. There are videos of animals they are awesome. More than 50% of the country's territory is affected by drought. In Corrientes, the fires and the heat corner the animals."
"These are images from this week in the reserve, in the north of Iberá. There are no fires in this area and those that did exist were immediately controlled by the province, but the drought is oppressive. We try to bring water to the animals in their habitats", he commented on the videos of alligators and capybaras that circulated on the networks weeks ago.
Then, Boloqui pointed out that the usual thing is that these animals move looking for water. However, some cannot do it due to their physical condition: "The alligator is cold-blooded and can only move at night so as not to suffer from the heat."
Heartbreaking images of the fires in Corrientes
Relief
In this framework of concern, the light of hope is the forecast of rains for the next few days, which would focus precisely on the northeast of Argentina, with the largest accumulated in Corrientes. More than 100 millimeters of rain is expected to fall over the weekend.
JP/ff




Source link