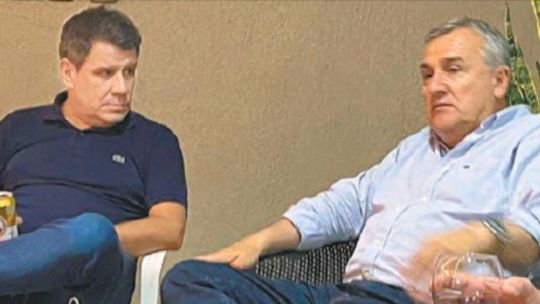 Deputy Facundo Manes turned on the radical intern after Gerardo Morales, governor of Jujuy and president of the national UCR, will launch his presidential candidacy on Wednesday. Ironic because he was not invited to the Gran Rex where other figures from the centenary party were and wanting to compete for his own presidential wish, the neurologist also questioned the management of Mauricio Macri in the Pink House.
"I would have stopped by to say hello, if they had invited me", Manes replied when asked about the absence of Morales in the launch. The provincial president himself had clarified the reason for that decision, far from making up the internal struggle to compete this 2023: "Yesterday I did not invite him to the event, because he wants to be a candidate, and if I invite another candidate it is so that we can go to the psychologist ", he clarified.
However, on Thursday night Manes went further: he spoke of "renewal" in the party ucerreista, questioned the self-absorption of politics and the "billion-dollar" electoral campaign expenses, and said that the centenary space should go for the presidency and not to accompany another candidate in the vice presidency. In the subtext of these statements you can read the last name Morales.
"Society is waiting for something new and the new thing is us," said the deputy in Truth/Consequence by TNand added: "It seems to me that we must seek the Presidency of the Nation and not the Vice Presidency."
At this point in the election year, the differences between Manes and Morales are clear. The man from Jujuy is in good harmony with Horacio Rodríguez Larreta, while the renowned academic met Mauricio Macri and Patricia Bullrich between February and March. "He is the radical who has the most votes", opined the former President recently, sticking the spoon in the radical internal. Manes thanked the accolade with a similar phrase in media statements.
Elections 2023 LIVE: Morales, Moreno and Grabois seek the presidency; López Murphy wants to succeed Larreta
However, on the night of this Thursday, the congressman had no qualms about criticizing the management of Cambiemos in 2015. He said that the PRO "he failed in his government" and added: "One of Macri's promises was zero hunger. The Frente de Todos also failed." Morales was part of the Cambiemita army between 2015 and 2019.
The northern governor's response to Manes's renewing position is that the white beret space must go together, without an internal one, in order to govern: "If the party has only one candidate, we are going to win the STEP and we are going to govern" , he trusted.




Source link