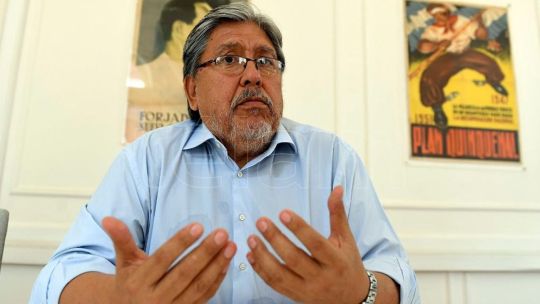 the official Fernando "Chino" Navarro He confirmed the crisis of the Frente de Todos, but maintained that it is a problem of the ruling class. In addition, he said that the attack on Sergio Berni moved him. "The punch is for everyone, but they hit us and we continue talking nonsense," he declared in Modo Fontevecchiaby Net TV y Radius Profile (FM 101.9).
Your statements make me uncomfortable, because it seems that you are telling it from the outside, and I feel that the Frente de Todos is about to break.
Beyond the discomfort that it generates for you, that it generates for me and for the Argentines, the Front of All has a crisis that cannot be denied.
What I am raising today, linked above all to insecurity, for an issue that I have been close to due to my work as a militant, beyond the position that I held and held, from 1983 to date We have not succeeded with a security policy.
In politics, we have decided, perhaps with good intentions, to develop party politics and we need state policies, and today it is seen more clearly than ever. At certain times, this type of debate reappears with great force about security and insecurity, about changing the code, and unfortunately we always lose the axis.
CFK questioned Berni's actions for the arrest of the bus drivers
The point is that this started with a murder, when they killed the driver Daniel Barrientos.
Politicians begin to speculate politically, so we are far from reality, and we look for the solution as a party, when we have to look for a solution as a whole. If we do not define a State policy, this will repeat itself.
The central point is whether the blows to Berni are a symbol of a fed up society with politicians. And that, if so, is bigger than the murder of the bus driver, beyond the fact that for those close to him that is the main thing. For society as a whole, it is whether or not we are about to see this weariness break out, and that the blow to Berni has been received by the Government and all the politicians, and is another form of expression of the same thing: voting for Milei , For example. There is a point in taking charge.
In the first instance, although you say that society is responsible, I believe that the greatest responsibility falls on the ruling class and from there to the political class. And then to us, who are the Government.
The punch is for everyone. If one makes an analysis, it is more for one or more for another, but in general I agree. The mercy in Argentina and in other parts of the world they have to do with the failure of traditional policies. I agree that it is a call for attention from our people saying "react, this is going wrong".
Raúl Timerman: "I don't think the Frente de Todos will hold out until the elections"
A minor issue, for example, is that I went on Saturday to see Saint Lawrence, and suddenly the fans began to curse the leadership. I am a member, I do not participate in the life of San Lorenzo, however I felt anguished. Go figure with the punch, to me I was touched.
It may be that part of this weariness has as one of its causes that, from what happened with Bernie, it is seen how a difference emerges between two majority partners of the Frente de Todos who take Berni, Kicillof, Aníbal Fernández and Alberto Fernández as part of that bill pass from one to the other. Are we at a point where all the veils are drawn and the internal disputes within the FdT reach levels like punching?
This is not new. Now it becomes more evident because, we return to the central theme, there is a death in between, and the reaction of many men in politics was not the most appropriate, and the intention does not matter, it matters to know what we saw. That crisis that you point out and describe, and I agree, is not from the Frente de Todos, it is from the Argentine ruling class.
For example, there is realism and rationality in the media where you are influential, but you turn the dial and they say nonsense of all colors. If you go to Together for Change it is the same as in the Front of Alland I do not say this to minimize our crisis.
I say that if the solution were to run to the FdT, because it is about to break, because we are inept and we care more about the internal than the pain of the people, the issue would be resolved with a vote. Although you are right, the issue has been increasing.
Berni's cold cloths with the bus drivers "It's enough for me with the apologies of the workers"
We keep repeating the same mistakes the crisis belongs to a sector of the ruling class who doesn't understand anything and where we prioritize our interests, the town isn't perfect either but it pokes its chest every day.
I am editing tomorrow's report on Juan Cabandié and he says that "our destiny cannot be an intense minority", referring to Kirchnerism. He said that the project of Néstor and Cristina Kirchner was always a project of majorities, of opening their arms and generating agreements, of walking together with those who do not think alike. When one perceives Kirchnerism and La Cámpora inbredly closing in on itself. Isn't there part of the problem of that exacerbated tension where each sector, mainly the one closest to CFK, locks itself into a dogmatism that even puts the unity of the front at risk?
Yes and no. And the rest what do we do? What responsibility do we have as governors, union leaders, mayors?
The problem is collective. I remember that nobody had voted for Alfonsín, nobody had voted for Menem, nobody votes for anyone, we do not take responsibility. I am holding the ruling class accountable. There is a sector of society that has done very well in the last 40-50 years, and another sector has not, it is doing worse and worse.
There are different responsibilities the higher the position, the greater the responsibility. I can agree with Juan, Cristina or Alberto, but the leaders also have responsibilities. How many shut up to see how they put something on the list or how they keep the municipality or the province?
Someone said "they are all handsome in the off the récord, then they are submissive". Let's take charge.
The two bus drivers arrested for assaulting Berni were released
And the businessmen? The ones in all the photos with all the governments? I don't want a businessman to be a man concerned with well-being, because they are businessmen and have the vocation of making money, but we are not realizing that we are going to be left without a country and we are not going to have anything left to win.
I am not generalizing because there are good businessmen, but others all they do is throw fuel on the fire. Here you have to throw water, compassion and good sense. No one is saved alone, if we do not understand that we have no destiny.
In an election year with all the talk about insecurity, wasn't it necessary to establish a basic agreement on three or four issues to start working on it and whoever wins the ruling class is willing to support a state policy? Or are we going to continue blaming ourselves, fighting among ourselves and bitching on the networks? The punch is for everyone, but they punch us and we continue talking nonsense. I see leaders who look like children, not even inept, they look like immature children.
Videos | This was the moment when they hit Sergio Berni
Alexander Gomel (AG): When you talk about leaders who add fuel to the fire, did it happen almost like a constant in this government? I'm talking about the sectors closest to Cristina. Did this attitude of throwing firewood from these sectors complicate?
It is a problem for the entire ruling class, mainly in politics, and in politics the most responsible are those who govern.
We have all been part of this process, let's take charge and think that if we have a few months to STEP and to present a proposal, instead of getting angry there must be common sense parameters.
In the Frente de Todos we do not all think the same about insecurity, some believe that a heavy hand and punitiveness pay, and others believe that security is a right but with a prevention policy and articulation with education, work and training. Let's discuss without offending each otherwith passion, and when we choose a candidate, let's think about it within the framework of "what for" and "what do we offer our people."
Soybean dollar: good and bad of Sergio Massa's bet to get dollars
The request is that Alberto Fernández not show up.
It is a matter of person You have a very serious problem and you go out to discuss this. The country has 40% poverty and daily insecurity goes up even though the hard numbers go down. Have 100% inflation and we discuss who is going to show up and who is not. Let whoever wants to show up, trusting in intelligence and popular will.
Let us govern, that between now and December our fight will be leave the country as tidy as possibleso that whoever takes office finds an orderly country, within the global and local crisis, which is very serious.
And from December 11, we must have the attitude of exercising a responsible opposition, not to do the same thing that today's opponents do. What we ask of the opposition today is what we have to give them.
Sergio Berni's health: he suffered polytrauma, cuts and awaits the result of a tomography
Are you proposing that the FdT will be in opposition from December 10?
No, I said that the ruling party can win or lose.
If I lost, would it have to be a different opposition?
Obviously, and I ask the same of the current opposition if they have to lose again. I saw leaders of JxC saying that "this will not reach the end of the year", "it can't take it anymore", "let's see if we can find a parliamentary solution", it's crazy. If things go wrong Alberto the country is doing badlythe people and the opposition as well.
It is not the same to drive a boat that has engine and sail problems than to drive one that is sinking. They're crazy, don't they understand what it's all about? Don't they realize we're in the same boat? With the aggravating circumstance that some have been in the water for a long time. You have to sit down, it's not a problem of being friends, you have to think about how we help so that the management is better day by day.
MVB JL




Source link