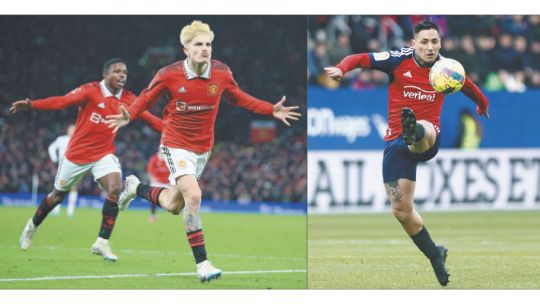 In the national team lists there may be clues to the reality of a country, or the reality of football in a country. Also from a globalized world in which migration transformed or modified old habits. Argentina and Spain, Spain and Argentina demonstrate it by delving into the stories of their summoned.
Alejandro Garnacho and Ezequiel "Chimy" Ávila represent a new sample of all this. Garnacho, whose mother is Argentine, never played for any team or club in our country: he started at the Arroyomolinos Municipal School, continued at Getafe until, in 2015, he signed for Atlético de Madrid. However, his name began to sound strong since September 2020, when he joined Manchester United.
As happened with Lionel Messi two decades ago, Garnacho was pulled by Spain and Argentina, although everything indicates that he wants to choose the world champion team in Qatar: Lionel Scaloni's call to join the list of friendlies against Panama and Curaçao, and the happiness that he showed in his networks seems to confirm that decision.
However, this call does not completely shield the youth: he must play an official match in a FIFA competition to cancel the possibility that he can represent Spain. The horizon, then, is September 2023, when the Qualifiers for the 2026 World Cup that will be organized by Canada, Mexico and the United States begin.
Just as Garnacho was born in Spain but will play for Argentina, a soccer player born in Argentina will play for Spain. This is Ezequiel 'Chimy' Ávila, from a brilliant moment at Osasuna, included in a prelist by the brand new coach of La Roja, Luis De la Fuente, for the FIFA date that will be played at the end of this month. According to what the Spanish press published yesterday, DT included the former striker from San Lorenzo among the 69 chosen. The final payroll will be given on March 17.
Ávila was summoned after De la Fuente was at the Ramón Sánchez Pizjuán stadium last Saturday, in which Osasuna beat Jorge Sampaoli's Sevilla 3-2 and in which three Argentine world champions play -Marcos Acuña, Gonzalo Montiel and Papu Gómez–, in addition to Lucas Ocampos and Erik Lamela.
Chimy Ávila, born in Rosario and emerged from the lower ranks of Tiro Federal, has a life story of overcoming himself: at the age of 19, he was removed from the professional squad after being arrested, accused of robbery by his own club, in a case of which was acquitted and declared innocent years later. That episode made him abandon soccer, work as a cartonero and bricklayer in Rosario, until he returned with the help of the Union of Argentine Soccer Players and his representative, Ariel Galarza. What came next is more or less known history: he played in San Lorenzo, and from there he flew to Europe.
At the age of 29, far from being a kid, he was presented with this opportunity: to represent Spain. "If they call me I say yes. I have the documents to represent Spain. If the two teams call me -Argentina and Spain-, it would be difficult to choose, but if it is only Spain, I do not doubt it, "he assured in several interviews during his years in LaLiga, where in addition to Osasuna, he played in Huesca.
They called Chimy. To Garnacho, too. They were born in other countries, but they will put on the colors of others. A sign that football can sometimes quite accurately synthesize what happens off the pitch.
That friendly Messi
It was the night of June 29, 2004 at the Argentinos stadium in La Paternal. The friendly had been devised by a talk between Hugo Tocalli, DT of the Sub 20, and Julio Grondona, president of AFA, after a VHS with plays by the Argentine who broke it in Spain had arrived at the Viamonte building.
"Grondona, with barbaric speed, realizes that he was summoned to play in the Sub 17 (of Spain). And he says: 'Here we have to do something, we have to put together a FIFA match'", recalled assistant Gerardo Salorio. The rival was a weak Paraguay Sub 22. This is how Messi's story with the National Team began.




Source link