Ricardo Quintelagovernor of La Rioja, was involved this Tuesday, March 14, in a strong conflict with teachers from La Rioja after insult a worker that claimed salary improvements for the sector: "Go to work, you lazy piece of shit"contemptuously launched the provincial official in response to the statements.
Megaphone in hand, the woman had approached the Paseo Cultural Barros, the place where Quintela was with her Chaco counterpart, Jorge Capitanichand demanded: "Governor, receive the teachers. We want democracy with living wages. We are tired of earning misery".
Ricardo Quintela: "We are trying to recover political and mining sovereignty"
Immediately afterwards, the La Rioja governor crossed the path and left, turning his back on the group that was waiting for him. Teachers are in the middle of a fight plan that prevented the normal start of classes and will last, at least, until Friday. Along the way, someone called him "rude."
"The violence of his words are the continuation of his campaign against teachers and against public education. He is by no means an outburst. We strongly repudiate their statements and call on all La Rioja residents to speak out against such an attack on teachers," the union said in this regard. "United Teachers Self-convened Riojanos (DUAR) June 30".
In this sense, hours before the clash with the official, the union had published on social networks that they demanded a increase of 35 thousand pesos and a increase in the educational budget.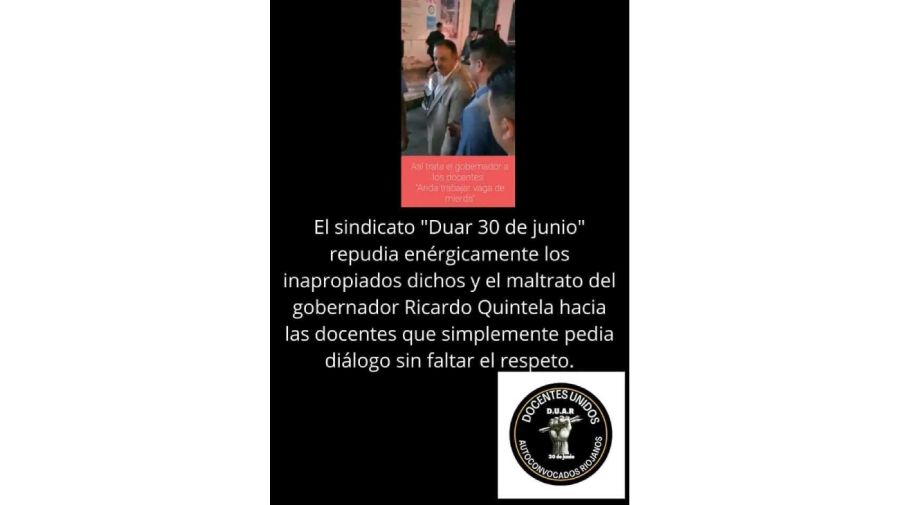 According to the teachers, it is quintet who turns a "deaf ear" to the situation in the province and "denies the possibilities of negotiationmeanwhile inflation eats up the wages of the workers day by day".
Faced with the aggression received from the provincial governor, the DUAR Assembly resolved continue with the measures of force until Friday, March 17, the day on which they will hold an evaluation assembly to reanalyze their situation and define the actions to follow.
Likewise, they will prepare a letter in response to the official's statements, signed by the La Rioja teaching staff, and will present it at the Government House, reiterating their request for a salary increment and one improvement of conditions for public education provincial.
Ricardo Quintela: "Everyone asks, some to increase their wealth, others to feed their children"
For his part, quintet He had manifested himself on Monday in relation to the conflict, when he explained that resources are distributed from the provincial administration "in the best possible way." "We do all we can dosince not only are teachers and doctors, but we must respond to 400,000 La Riojans," he argued.
The governor highlighted the salary increase granted as of January, when the issue began to be discussed in March, and added: "We cannot increase more, since it is worth signing a paper that we will not be able to comply with tomorrow".
AS/ff




Source link