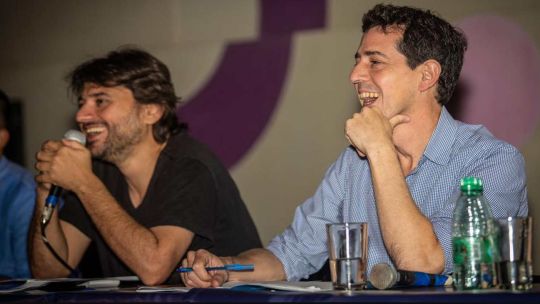 Juan Grabois, the social leader of the Movement of Excluded Workers, is fully active in this 2023 in which he plans to contest the candidacy for president of the Frente de Todos: next Thursday he will be in Bariloche to discuss the five-year plan that he is promoting together with the minister of Inside, Wado de Pedro. The project basically seeks to build a "comprehensive" country from the top down and is produced one week from event between the figure of the Frente Patria Grande and the governor of the province from Buenos Aires, Axel Kicillof.
The representative, at 3:30 pm, will lead the 7th Assembly for Integral Development for a Human and Federal Argentina at the Regional University Center of Bariloche, belonging to the National University of Comahue (Quintral 1250). Depending on its environment, it will be a space for listening and exchanging problems, experiences and proposals with different actors such as formal workers, members of the popular economy, health, education, scientists, native communities, youth, representatives of justice and human rights, the feminist movement, migrants and people with disabilities, among other social actors.
Grabois acknowledged that he is analyzing a candidacy: "We are developing a Five-Year Plan with Wado de Pedro"
For this activity, technical teams from the land, roof, work, health, and education axes work together with experts and community actors at the provincial level "in detailing the diagnoses and proposals for each topic." "The objective is to plan the integral development of Argentina from the bottom up, including the experience and knowledge of the organized community," they expressed on the Grabois side before PROFILE.
De Pedro and Grabois shared an act to promote a five-year plan
It is worth noting that the MTE man showed up with Alberto Fernández's official to promote the five-year plan on the first day of February, in the city of Trelew, Chubut, at the time when the minister's off was on the public agenda. For those days, the leader did not hide his desire that Pedro be the candidate for president of the coalition and even confessed that if that scenario did not take place, he was seriously thinking about competing. From that moment on, he did not stop offering signs in that direction.
Grabois added a photo with Kicillof
In La Plata, with flags with the legend Juan XXIII, the social figure shared an act with the governor of the province of Buenos Aires. "I do not want my militant generation to accept that the limit of what is possible is to have another mediocre next year, another lukewarm, another coward who does not make the reforms that must be made. I do not accept it, there is no way to be convinced to that," said the social leader before the watchful eye of the president.
Embraced with Kicillof, Grabois presented his book and pointed to Alberto: "Next year I don't want another mediocre one"
And he celebrated the meeting with the provincial president on his Twitter account with a photo hugging: "With @Kicillofok we seriously debate -without coaching or set phrases- about some issues that affect our country and people. We need to get out of the thermos and microdisputes. Recover greatness of mind and spirit in public discussion. This was an attempt. I hope it works."




Source link