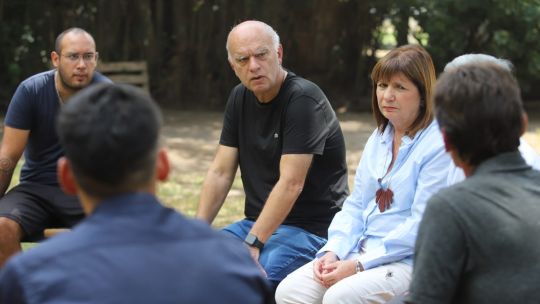 "Governor Kicillof's silence (before the crime in La Matanza) shows the accommodation that the government has of the people," said Grindetti, mayor of Lanús, in dialogue with LN+ and noted: "They don't care about the people, they put together a story and when it falls, they hide".
In addition, the candidate for governor of the PRO for the space of Patricia Bullrich insisted: "Today we have an absent State, because there is a subversion of values ​​and the Government is sinning, by action with everything that has been happening and by omission because today they are hidden." and stressed: "The fact that the governor is silent at this time, not only because of the death of the bus driver but also because of the disorder of the outraged people hitting a minister, shows that there is no state, that it does not exist."
"I'm angry and sad about what happened yesterday." Grindetti expressed before the murder in Virrey del Pino of the driver of line 620 and the acts of violence that occurred in General Paz. In turn, upon hearing the word of the government spokesperson, Gabriela Cerruti, the mayor Lanús fired angrily: "What Cerruti says is outrageous. Life is not a crust of bread, life is a matter of values, of family , of peace and coexistence. Not as this lady (Cerruti) says that 'people are calm because they give them a little food'".
"Cerruti, who today speaks of insecurity, in his life he came to see the reality of what is happening in the suburbs, he has no territory and speaks from ignorance," Grindetti raised his voice and closed against the national spokeswoman: "Cerruti stigmatizes to the poor and the inhabitants of the conurbano".
For his part and with regard to the insecurity events that plague the suburbs and the district he leads, Grindetti stressed: "In Lanús we put 1,000 cameras, 85 citizen security mobiles for prevention, our own security personnel, 13,000 anti-panic buttons, we put gasoline to the patrol cars of the Province, and we even presented two bills: One to have the Local Police in charge of the municipalities and another to increase the penalties for those who commit crimes against the elderly. But tell me something: What does the Government do? province to accompany all this? Nothing".




Source link