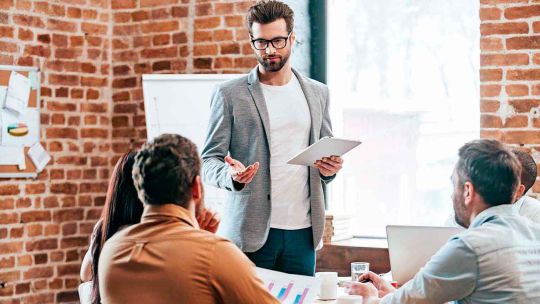 Increasingly, statistics, studies and experiences indicate that our health, personal well-being and ability to achieve and carry out our individual and collective objectives, depend a lot on daily coexistence in the company where we work. Money, the areas with which we interact on a day-to-day basis and the place that work is given have an impact on our private life. Thus, the work we do and the place where we work become important factors.
From a professional point of view, from more than 25 years of work in human development in different countries, I have found managers and senior executives affected as individuals and as leaders in the effectiveness of their management in public and private organizations, NGOs and SMEs. A situation that was triggered in them from what they experienced on a daily basis, from working together, from their feelings and from everything that the organization generates throughout the 24 hours of the day.
It should be remembered that we spend more than half of our lives in organizations where we distribute work, knowledge, resources and profits. Clearly that makes companies in places of high social impact that become very important in our well-being and personal satisfaction in every way.
This, which is simple to observe today, was not so simple in previous decades. We did not have the advances and the necessary knowledge to measure the impacts that the work environment, for example, generates every day on the quality of life of the people who are part of the company, the quality of the conversations, the interpersonal relationships that influence directly on activities, tasks and achievements, and which clearly translate into a strong impact on the organization's profits.
World Health Day: the importance of having healthy companies
Of course, in these difficult social, political and economic times, we must look at the level of conflict in the company, the intelligence to manage and resolve conflicts healthily or not, and the resonance it has in each of the people who live in the organization.
Since the middle of the last century, a discipline that is growing and favoring us day by day for this measurement is epigenetics, which deals with the impact of the exchange of genes and the environment. The term is a Greek prefix, epi means above. It brings us a concern that I find easy to understand and share with you in this way: "How you live is what you become".
Let's go back to what it can mean to realize that more than half of our lives are spent in companies: thinking in a certain way, doing in a certain way, feeling in a certain way, living with certain conversations and not others, receiving and giving our resources and knowledge in a certain way and ask ourselves with internal honesty: what are we transforming into every day?
Here I support myself and I recommend a book by Doctor Humberto Roma "Sin Maturana", which has strongly modeled my work in organizations for those who wish to deepen this note from the perspective of this wonderful, world-renowned biologist and award-winning epistemologist who, from His work in the biology of knowing and loving has opened many doors to real and profound transformation in all fields of human life.
Headache, anguish, annoyance…?
We can begin to relate how those headaches, that anguish, that annoyance, that occasional impotence, those frustrations, anxieties, those tensions and other verbal emotional physical discomfort that we are perceiving can have their origin in our workplaces where we spend between 8 to 14 hours daily.
What is the path now that we begin to take notes of these impacts that these work days have directly on our health, self-esteem, our emotionality, motivation in life, in short, on that quality of life?
Corporate well-being: with a healthy team, 25 days of productivity could be gained per year
Initially, we can look at 3 indicators that show us the degree of health our company has, whether we are exercising the role of owner, CEO, area executive, a senior manager, an administrative or operational employee. We all make the climate, the work culture of the company and we are all affected by the company on a daily basis.
The first index is: How you feel physically, emotionally and mentally on a daily basis.
Perhaps you don't realize it, for that I leave you this simple exercise, ask this question twice a day during your working day and write down in a notebook exclusively for your well-being what you feel. You are exercising your self attention; the first step of self-care. Mark in your personal notebook from 1 to 10 your self-perception of how you feel every day.
Is there trust?
The second is to see if the company generates and cultivates a climate of trust among people to maximize results and benefits. Ask your teammates how they feel each day and add it to this self-test
honest conversations
The third is to analyze whether there are honest and effective results-oriented conversations common on a daily basis or whether hidden conversations are prevalent in the organization. On this point, it is important, once these talks have been detected, to analyze whether, by mentioning them, any sneaky punishment is received at any level: emotional, verbal, gestural or obvious.
Why are healthy companies essential?
Because when malaise settles in a company, not only people suffer, but also financial results. This is the double perspective that the new world reality shows us, the impact of the people who make up a company on its financial performance is becoming increasingly visible.
Thus, the well-being of the people who belong to the organization and the financial well-being are interdependent.
Let's ask ourselves with data: How much does it cost to promote staff and train them, so that they end up resigning due to a toxic climate or bad relationships and apply what they have learned to another company?
This situation of dependency also shows us today the experience when a consumer does not return because they did not have a good personal experience. It is that the daily experiential experience becomes visible and translates to a number of errors committed or that could not be foreseen due to being involved in interpersonal conflicts or because the area or the head office is not permeable, because they do not listen to their collaborators or due to the amount of duplication of unnecessary operations that happen due to the lack of productive communication.
All this interpersonal ineffectiveness, which we do not take into account, is wasted time, resources, inputs and money.
For this reason, I affirm that the well-being of the people who make up the organization and its development is directly proportional to the financial health of the company. We have to put an end to this inherited blindness and, in the best of cases, myopia.
Five questions you need to answer to know if your company is healthy: Do people leave motivated after the workday and propose creative solutions and activities? Do people from one area offer and request collaboration from another area frequently, with agility and enjoy the synergy for everyday situations that arise?
Is the work environment one of trust based on respectful conversations or does hidden talk and hallway talk abound? Is there high staff turnover in any area of ​​the organization that cannot be stabilized? And finally: Do people get sick frequently?
Lilian Maitino is an International Certified Master Coach. https://lilianmaitino.com




Source link