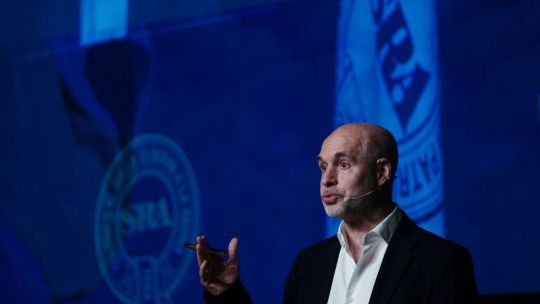 The head of Government of the City of Buenos Aires and presidential candidate Horacio Rodriguez Larreta presented seven proposals to the Argentine Rural Society, in an event that brought together several pre-candidates from Together for Change, We Make Córdoba and La Libertad Avanza.
"Doing things well, with key rules of the game, we can double farm exports in six years and end the shortage of foreign currency of the country", said Rodríguez Larreta regarding the measures that he would implement in the agricultural sector.
In this sense, he considered that "we need a government that works with the countryside." And he added: "The plan is made together. You have to have a fluid dialogue, a stable relationship and be stable. The government sets the rules of the game and you are committed to increasing production and exports".
After criticism for the unfolding of elections, Rodríguez Larreta and Patricia Bullrich cross paths in La Rural
"I can say that we are going to change everything immediately, it is not serious. We have to speak the truth. There are no magic recipes, you have to work a lot", said the Buenos Aires president at the event that was also attended by the president of the PRO, Patricia Bullrich, the liberal deputy Javier Milei and the governor of the province of Córdoba, Juan Schiaretti.
Among the seven measures that he proposed in case of becoming president of the Nation, the leader of Together for Change spoke of stability: "Without macro, there is nothing. With this level of volatility there is no long term. Today it is the Achilles heel of the agricultural country and of many sectors. The first thing is to order the accounts and reach zero primary deficit the first year. But that requires a lot of work," he said.
This government, diagnosed Rodríguez Larreta, "reaches the end of the year with 4 or 5 points of the product and micro stability, with stable rules of the game. They cannot launch an investment and change after six months", and he considered a "commitment through a law, with stability for five or ten years", necessary.
"Withholdings is a horrible tax, which takes over your work," Rodríguez Larreta told representatives of the field, and mentioned that since 2002 the state "collected more than 170 billion dollars." On this point, he proposed "eliminating withholdings for more than 200 products from regional economies and a commitment to a staggered reduction that goes according to the increase in production."
News in development




Source link