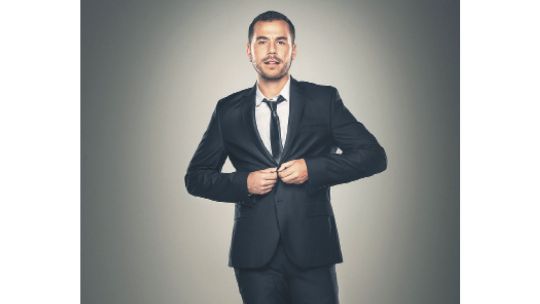 Television is an area that Fernando Dente has known for a long time. His first time on television was in Disney High School Musical: The Selection in 2007, then, as he himself points out, he received several more reality shows. Currently, his face is associated with the best Argentine theater musicals, always showing his professionalism and talent, in equal doses. He began touring the commercial scene in 2004 with Mi bella dama and his two most recent hits were Kinky Boots and Regreso en Patagonia. But since March 20, he began a new stage since he put on the suit -literally- of a conductor, the cycle, titled by himself is Noche al Dente and is from Monday to Friday from 10 p.m. in America.
Each broadcast has a different guest, with whom he will sing and also interview. She confesses: "To my surprise there are many more similarities with theatrical acting than I thought. What is different is that every night is a new show, not a new function. It is a constant premiere. I feel free. My mission is to integrate".
—Having to do a daily and nightly television program changed you?
—It is much more demanding than I could imagine as a viewer. It has a great artistic, since we have live musicians. We seek to be in line with the present. In our first weeks we are modifying and adjusting. I get up at nine in the morning and since ten o'clock I have been on the computer looking for material from him or the interviewee, I also prepare the song that I will do with them. From three in the afternoon I meet with the production, then I return home but at six I am already on the channel. Then I'm going to adjust my hours. I could go just an hour before, but I want to be very present to internalize myself.
—You confessed on air that you have a lot of experience in reality shows, that you were less than Big Brother in almost all of them. Last year you participated in Who is the mask. What balance do you make?
—For me, who is the mask? it was one of the funniest, since it was anonymous. Nobody knew that I was the Shining and I loved being with Natalia Oreiro. They allowed me to sing and dance. Big Brother was a very special phenomenon, an incredibly made product. He deserves the success he had. It didn't bother me to start in front of them, luckily I'm on a less competitive channel. I feel very supported by America and by the production company Jotax.
—Why were your first guests two stage partners: Martín Bossi (Kinky Boots) and Dario Barassi (Aladdin: it will be great)?
—I have very beautiful ties with both of them. From Martín I knew his level of improvisation, from when we shared the theater and I knew that he was going to give me great peace of mind. Beyond the prestige that Bossi has, with which he was going to grace the program. With Dario, we hadn't been together on stage for a long time, since Aladdin was in 2018. I wanted them both to be there in the first week, because I knew I would feel comfortable and accompanied.
—How are you as a spectator, both on television and in theater?
– Quite observant. I don't want to use the term critical, but I can quickly tell if it interests me or not, if it amuses me or not. I think that in theater as on television I am the same, although when I see something on stage it captures me, I forget everything and let myself be led. I feel that television plays another role, it usually accompanies it, it can be in the background in the house. It seems to me that it does not require constant attention.
—The scenery of Noche al Dente is excessively similar to that of It's not so late with Germán Paoloski…
-Oh really? Maybe it reminds you of Jimmy Fallon or James Corden's shows, because they all come from the same place, which is the late night show format. It is a concept, a style. They are proposals that allow the freedom to do many things, not just interview.
"What would you say no to?"
—I am lucky to have a team that accompanies me and with which I share criteria. If I have to do the exercise of saying no, I would tell you that I would not like to interview a politician, because I am not interested. But if I had to, I would do it by studying it. Always from my place and with respect, but I know that I am not Rolando Graña.
—And the world of sports?
—I would approach with great curiosity and looking for the points of union. Precisely football, being Argentine – whether you like it more or less – is part of our culture and is in our DNA. We breathe it in the air.
—What would you say about current Argentine television?
I think we are in a moment of resurgence. During the pandemic they were giving news all the time, reflecting the chaos we were experiencing and many of us chose to watch platforms. Now we reconnected. There are few national fictions. Today the boys watch soap operas on YouTube and that is the way to consume them.
"And the platforms?"
"I'm a little distracted." It is not an option to watch today, except for a series or movie. My place has always been the theater, I think that they don't even call me, nor do I summon them. Many people tell you why you don't make movies or fiction… last year I filmed for Disney in Brazil. But I don't have my energy put there, for now.
Did you have a role model?
—To be honest, I am a person who seeks to find myself. Labels annoy me. It is hard for me to say that I am an actor, singer, dancer, director or conductor. I don't want to limit myself, I want to integrate. I admire Freddie Mercury, Liza Minnelli, Nacha Guevara, Oscar Martínez, Osqui Guzmán or Rodrigo de la Serna. For a long time I suffered from not finding a north to follow, I would not have been honest with myself.
—Since your beginnings, did studies evolve to act in musicals?
—I think that today there is more awareness of what this genre demands, it even happened to me. That's why the training changed. In the Argentine Institute of Music (IAM) that we created with Ricky Pashkus we have more than six hundred students, I think it is the largest in Latin America. There are many young people who choose to train in musical comedy seriously and progress has been made in understanding how the preparation should be. I went to the United States for eight months to attend an acting conservatory, but Argentina has nothing to envy to anyone in terms of art. I stress all the time that I wanted to have that experience, but my training is national. Here we have the best teachers. Sometimes people get confused, parents come to ask me and I stress that you can study very well here. If you go abroad it is for cotillion, in Argentina you can train perfectly, with our culture and idiosyncrasy. Sometimes we have the fantasy that outside is the best.
Pending subject, although without labels
This 2023 is a year of beginnings for Fernando Dente. He not only started as a television host, but since July he will be known as a theater director. His debut will be with Heathers, the musical. He affirms: "I am enthusiastic and accompanied in all this preview. It will be a very different show, it fills me with enthusiasm and emotion. More than my gaze will be that of a team. We did tests to which six thousand people applied throughout the country. We went to Mar del Plata, Córdoba and Rosario. We are looking for people prepared today, already trained professionals. There were several auditions, to find a cast of nineteen. The protagonist came out of these tests and is called Julia Tozzi. I went to the provinces, there are people from La Rioja, Greater Buenos Aires and even from Uruguay. I wanted Sofi Morandi, Nico Di Pace and Momi Giardina to be there."
He confirms: "From July 1 and 2 we will be at the Opera, the tickets are already sold out, so we are adding more functions on the 7th and 8th and 9th, this for now."
When asked about the national authors, he underlines: "I made Fierce Tango, and although the stories were universal, both Peter Pan and Aladdin were one hundred percent national creations. I want to build an Argentine musical, but for now it is not a battle that I consider facing. I didn't have time or schedule to develop, maybe it's a pending subject. The materials are good or bad, I don't look at the label. I wouldn't do a play just because it's pretty, I want it to be worth it for the public that sees it."




Source link