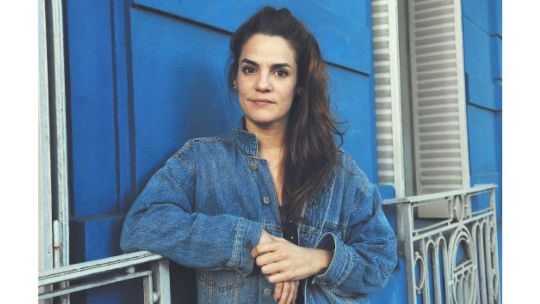 Now she is known as Sofía Vega, the wheelchair-bound agent of the Palermo Division, the comedy that can be seen on Netflix, but Pilar Gamboa's story is first linked to theater, from which many characters and great successes such as Oil together with the Piel de Lava group. Since the beginning of March, she has had the difficult task of replacing Andrea Garrote in the latest creation written, directed and performed by Rafael Spregelburd: Inferno. The performances are on Thursdays and Fridays at 8:30 p.m. at the Astros theater, together with Violeta Urtizberea and Guido Losantos, with the musician Nicolás Varchausky.
Pilar Gamboa confesses: "I had never done a replacement in the theater before. I accepted because he called me Rafael telling me that Andrea was going on tour in Spain and that it would be for a short time. Without seeing the play I said yes, and when I saw it I realized that it is a lot of text and a very funny performance. I always liked her theater and I am a follower of her creations. I had a great time at La Terquedad and Acassuso. I admire him a lot. Inferno is like a kind of Chinese boxes that are opening and the playfulness takes you to a reverie with a moment in hell. It gave me unknown nerves, but the other actors helped me a lot. No one asked me to copy and I couldn't have done it. I looked for my imprint ".
—You are part of two groups Lava Skin and the Company of Silence: how do you maintain this simultaneity?
—From a very young age I was trained in places where collective dramaturgy was practiced, since 2000 I frequented the studios of Alejandro Catalán, Ricardo Bartís or Cristian Drut. There I met my friends and it fascinates me to think in a group. With Piel de lava we have been working together uninterruptedly for twenty years. With the Compañía del Silencio we did three works, then we stopped for thirteen years, but now we are rehearsing again. It works for me to think about reality and the actions of many. I am interested in collective research, I feel that its results are very few egocentric. They go through the filter of many heads and humanities, with a group result. I think acting is a collective activity, you never act well if you cut yourself down. Even if you do a monologue, you build yourself with the director, the assistant, the technician: there must always be another.
—The Petróleo show is a special phenomenon, from the official theater to the commercial theater and it reached Spain, passing through the festival in Chile…
—In Catalonia and Girona, in Madrid, they were parties, almost like doing it in Buenos Aires. My character, Carli, is an extract from Argentine machismo: it was a new challenge to cross the border and feel that my actions were not celebrated as here. I don't know if there is this type of machirulo the same in Spain, but there is something that does occur. This protagonist looks for the error of others to feel more. I found new twists and turns and it became more sordid. Theater performances are like plasticine, you change it with the audience. It was quite a challenge to do it in front of other viewers. We have chances to come back. He came out without speculation, investigating masculinity, without mocking or parodying it. There is a look of reflection on humor. Our idea is to continue with Oil on Wednesdays throughout April and we will save until almost the end of the year.
—Was there a before and after from your participation in Los únicos, with a production of Polka for El Trece?
—Television came to me quite late, I was over thirty years old. At the moment it opens a door for you and gives you popularity when you are doing it. I don't have visibility on the screen since I was fourteen like other actresses. My participation in television was very splashed. I play the commercial key, but also the other one. It was given to me like this. I don't consider myself a popular actress, although now with División Palermo they recognize me and also when I did 30 nights with my ex, a film with Adrián Suar that I love very much. When they congratulate me on the street, it is generally for Oil. I have a very normal and extraordinary life because of my work. My career is very rare, I do what I want and I like it.
—Were you aware of the repercussion that the Palermo Division could have?
—We have been with Santiago Korovsky since 2018, he called Daniel (Hendler), Martín Garabal and me to make a pilot and be able to raise funds to make the web series. I was always very close, because Ignacio Sánchez Mestre (NdR is Gamboa's current partner) together with Santiago and Florencia Percia wrote the scripts via Zoom. From the beginning I felt that Santiago's head is wonderful, brilliant, intelligent, Jewish, neurotic, an excellent actor and insecure. He is a very captivating prism of a human being. When we started filming knowing that he was going to Netflix was entering the big leagues. You never know what will happen to people, I felt that I could find my audience, but I did not imagine this popularity.
—How to build this character in a wheelchair?
—From the beginning I had Lucrecia Gómez who is paralyzed, who helped me a lot by showing me the world from a chair. She not only opened me up as an actress, but as a person, since she showed me the other side. Like everyone else, she has a life beyond the chair. The best thing about the Palermo Division is that she does not stay with the disabilities, but rather shows the other side of her life. The world is not kind to disabled people at all. The people who drive manual wheelchairs do not know how they manage to travel through these paths, or travel by bus, since the platforms do not work. They live thanks to the solidarity of the people, I felt how the passers-by collaborate with them. They suffer hostility continually.
Do you know what repercussion it has in other countries? And what will the second season be like?
—I have a friend who lives in France and she told me that it was among the most viewed there. It's dubbed in a bunch of languages. Santiago wanted to leave some lines open, but until the first premiered we didn't know if he was going to see the second. Only now we know that we will film a new season, but nothing more.
—How do you live the reality of women? How does the topic engage you?
—I feel that we lack everything as a woman. We continue with the femicides. There is a society that has not yet learned. We did a lot, but we still need a lot more. I think it is an eternal and daily struggle. Today I have the chance to educate a boy and a girl. My son Manuel will be three years old and Ana is eight months old. I don't want to repeat myself, I question everything and it's a very traditional job.
between hell and paradise
While she will continue to replace Andrea Garrote in Inferno by and with Rafael Spregelburd throughout April, Pilar Gamboa confesses: "We got together to improvise with Cía. Of Silence. A lot of water passed under the bridge: thirteen years without rehearsing together. Romina Paula wrote some texts and we are going to show Sombras, of course, in July at Paraíso Club de Artes Escénicas. This entrepreneurship was formed in the pandemic. It was Cynthia Edul, who is a manager, writer and playwright who began to think of a new way of producing that was not applying for subsidies or waiting for them to call you from the official theaters. For now we are: Agustina Muñoz, Alfredo Staffolani, Aliana Álvarez Pacheco, Ariel Farace, Bárbara Hang, María La Greca, Giuliana Migale Rocco, Ignacio Sánchez Mestre, Lorena Vega, Silvia Gómez Giusto, Romina Paula and me. This is how the idea of ​​a club was born, with a monthly fee ($3000) and with benefits: we give a premiere every month. Today there are three hundred subscribers"
He continues: "It is the audience itself that subsidizes us. I will give an acting workshop for twenty-five people and everyone can sign up, beyond Club Paraíso. It will not be for those who start, but for those who have previous experience. I am also putting together a cycle of reports that will last one hour, during the month of September. I have always been interested in the interview genre and I will invite the actors I admire."
Remember that it was directed by Javier Daulte, Daniel Veronese and Mariano Pensotti, among others. Ends: "I am a privileged person who can live from the profession. And I celebrate it a lot. I'm not a millionaire. It's almost a miracle to work on what you love and live on it. I know very talented people who don't."




Source link