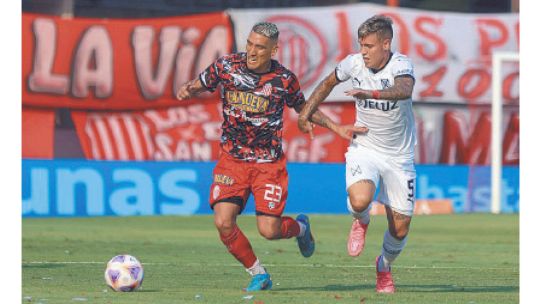 Independent is a slide of emotions. Go from enthusiasm to corkage in a matter of minutes. The start of yesterday's game that in the end drew 1-1 against Barracas Central is a symptom of this cyclothymia. In an unexpected play for locals and strangers, Red converted after 30 seconds of the game. Unusual. A team whose characteristic is the lack of a goal, gets it from the start. What better! Stillitano's band, who needs to face a game calmly, finds it after a few seconds. Maybe it's Independiente afternoon after all.
Three minutes passed, only three minutes and Barracas Central tied it. The dream was fleeting. The result in favor that relaxes the tensions lasted a breath. There is no case: this Independent is destined to suffer.
As if that were not enough, in the first half Barreto was expelled for an infraction against Centurion. Direct red for the central marker. One less for Stillitano.
Even so, Independiente did not resign. With the limitations that he showed in the first six dates, he went looking for a triumph that is elusive. But of course, this team has a hard time.
Cauteruccio, Barcia, Matías Giménez, Ostachuk missed it, and so the minutes passed. That beginning that predicted a great game led to one of those many encounters that leave nothing but another frustration. The greatest memory of those who dared to go to the Barracas Central stadium will be the 40 degree thermal sensation that not even the fire hydrants could calm down.
To the poor campaign that stars in this tournament, Independiente adds these inconsequential draws. Perhaps the positive of yesterday's game were the attempts to find the Barracas goal, a series of arrivals that they did not know how to stir or define. But it was all. He kept repeating inexcusable defensive errors and lack of forcefulness up front. El Rojo finished with three youngsters in attack: Rodrigo Márquez, Santiago Hidalgo and Javier Vallejo.
Now it's time to shuffle and give again. Stillitano's Raise was left with a negative balance. The numbers are compelling: seven games, one win, four draws, two losses. And a lack of ideas that threatens enthusiasm.
Millionaire debt with Utedyc
Hugo Moyano, former president of Independiente, was sentenced by the court to cancel the debt of more than 84 million pesos in union contributions and to the social work of the 500 workers of the Avellaneda club during his administration.
A sentence that was announced on Thursday ordered the current administration of the club, headed by Fabián Doman, to pay almost $13 million to Utedyc, the union that represents Independiente's staff, for non-payment of union contributions. .
The ruling in question involves the contribution debt accumulated between February and December 2021, but Utedyc claims non-payment of member contributions between 2017 and 2022.




Source link