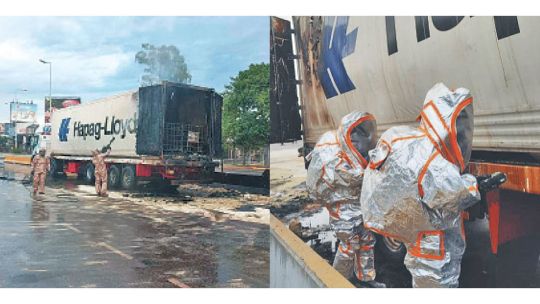 "Someone has to be held accountable for this negligence." The toxic spill from a truck on the Autopista del Oeste left serious environmental consequences and the mayor of Ituzaingó, Alberto Descalzo, announced that he will initiate legal action against the perpetrators.
Descalzo said he was "very concerned" about the "toxic substances that flew over the neighborhoods of Ituzaingó, affecting the health of our community." "The lack of signaling on the truck and the driver's ignorance about how to proceed in cases like this are very striking," he said.
"We are starting an investigation to find out the substance it was transporting because, although the consignment note stated that it was a herbicide, we are not certain that this is the case. And that truck, without signs, without care and with a dangerous load, circulated on the highway from the port of Buenos Aires, that is, it went through many places without any care," the community chief announced.
According to the sources, the truck involved is located in Campo de Mayo, since by indication of the Minister of Defense, Jorge Taiana, Commander Mander and the Company of Chemical, Biological and Nuclear Engineers and Support for the Emergency 601 of the Argentine Army.
As indicated in the statement, the head of the communal Cabinet, Pablo Descalzo, received the military company that attended to provide support tasks and proceed to the detection and decontamination of the remaining chemical since, although the papers indicated that it was transporting Cletodim at 94%, a non-residual systemic herbicide with a toxicity classification of 3, the corresponding expertise is still awaited to corroborate its veracity.
"There were around fifty residents who approached different medical guards with throat and eye conditions, and respiratory difficulties. Among the victims are members of the Volunteer Fire Department, who have suffered injuries to their legs. The municipality is monitoring the affected residents," the mayor said.
Finally, Descalzo asserted: "We have to keep in mind that we do not know if the spill could have consequences in the future and we must also preserve and think about the damage it could cause to the environment. It is essential that this does not happen again, which is why we are going to declare an environmental and health emergency".




Source link