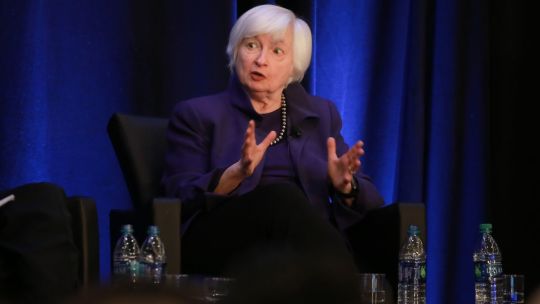 Treasury Secretary, Janet Yellendefended on Wednesday before legislators the measures adopted by the government of Joe Biden to bolster confidence in US banks, emphasizing that failed bank owners and investors were not bailed out.
"It is important to be clear: the government does not protect shareholders or debt holders from bankrupt banks", Yellen said in an appearance before a Senate subcommittee.
"The taxpayer bears no loss derived from the resolution of these banks. Deposit protection is provided by the Deposit Insurance Fund, which is financed by commissions from insured banks, "he added.
First Republic bailout could depend on US government support
Yellen, along with the Federal Reserve Chairman, Jerome Powellhas been at the center of the US government's efforts to restore stability to the US banking sector and calm financial markets after the collapse of some midsize banks.
The testimony of the head of the Treasury comes shortly after the decision of the Federal Reserve to raise interest rates. The central bank said in a statement that the US banking system is "robust and resilient." Powell also told a news conference that the Fed is committed to learning lessons from the situation.
On March 12, the Federal Deposit Insurance Corporation announced that it would guarantee all deposits of Silicon Valley Bank y Signature Bank, entities that failed. That same day, the Federal Reserve launched an emergency lending program and eased the terms of its permanent line of credit for banks with liquidity needs, in an effort to reassure depositors across the country.
The meeting of the Federal Reserve begins in Washington: Argentina awaits
In a speech to a bankers' conference on Tuesday, Yellen said the government was willing to repeat the steps it took to bail out uninsured deposits from failing banks "if smaller institutions suffer withdrawals of deposits that represent a risk of contagion".
Wednesday's hearing before the Senate Appropriations Committee Subcommittee on Financial Services and General Government was scheduled to give lawmakers a chance to question Yellen about the president's proposed 2024 budget. Biden. The commission previously published the text of its previously prepared comments.
As for the budget, Yellen will address the Administration's controversial request for an additional $14 billion for the IRS, just one year after Congress appropriated $80 billion. to rebuild the IRS for the next decade.
"Our budget request provides ongoing operating funding that will allow taxpayers to receive the best service possible. It will complement the one-time, long-term investment in the IRS," Yellen concluded.
RM/nt




Source link