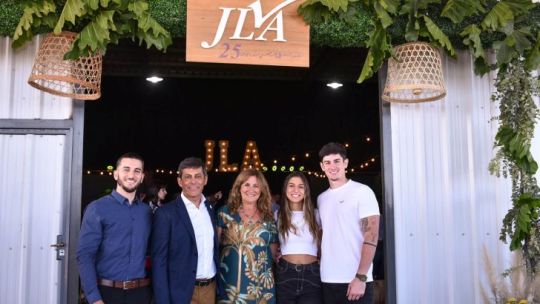 Last week the event was held for the 25th anniversary of JLA, a company dedicated to providing strategic consulting and laboratory services for the Argentine food chain, which includes everything from primary production to marketing and export. Services are linked to technology, sustainability and food safety.
The laboratory was born driven by the peanut sector and in 1997 joined forces with J. Leek Associates from the US – a company that worked for US consumers evaluating Argentina as an alternative origin – giving rise to JLA Argentina.
Within the framework of the anniversary event, Roberto Sandrini, founder and General Manager of JLA, reviewed the path traveled in these 25 years, reviewing the most relevant facts of the company. In this sense, the businessman described the company's trajectory as very positive: "We started very low due to a specific problem, which was agrotoxins in peanuts, so growth is exponential."
Mention was made at the event of the expansion and growth plan, having already executed 30% of the master plan for its experimental field, with a projected investment of US$3 million.
It should be noted that in the post-pandemic laboratory business unit, more than US$ 1 million was invested in building infrastructure and equipment, accompanied by a 25% growth in human resources during the same period.
In addition, Sandrini highlighted the growth that the firm has experienced, which includes both the incorporation of sustainability policies as well as healthy foods from the formation of a team "that has the vision to contribute its grain of sand."
Regarding future expectations, microbiologist Pablo Karmalita said that "the projection is that we have to keep up with the industry, we are lucky to have technology." And he remarked that based on the importance of caring for the environment and corporate social responsibility, solar panels are used to supply energy and maintain the temperature of the equipment and inverter air conditioning system, which work independently, so that " when necessary, work."
In 2017 JLA was the first Argentine company recognized under Good Laboratory Practices by the OECD (Organization for Economic Cooperation and Development) both in the Field Phase and in the Analytical Phase.
Since then, it has expanded its vision and incorporated new services for the agricultural sector, among which the following stand out:
-Herbicide efficacy trials, screening of phytosanitary residues under GLP for SENASA presentation.
-Phytosanitary registration tests under GLP for SENASA presentation.
-Trials on seeds, fertilizers: yield comparisons, adjustment of planting dates and densities.
-Efficacy, agrochemical residues on regulated seeds.
-Characterization of lines and hybrids, phenological studies.
-Inoculants and adjuvants: performance in field trials, physical-chemical analysis.
-Final presentation with demonstrative plots in face-to-face sessions.




Source link