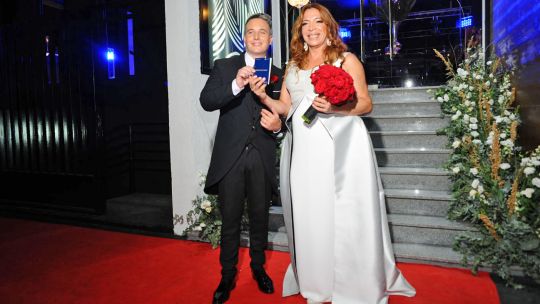 Lizy Tagliani and Sebastián Nebot said yes surrounded by 180 guests, including several celebrities who came to Berazategui for the celebration between the actress, the host, and her boyfriend. And a separate detail was the respective godfather and godmother they had: Marley and Mirtha Legrand. In the case of the driver, it is understood that in addition to friendship, both have made business trips that even had a share of risk. For example, the trip to cover the World Cup in Russia. Mirtha's choice as godmother was explained by Lizy herself. "When I was a hairdresser and worked with Jorge Ibáñez (designer who died in 2014), I accompanied him to all his shows to take care of the models. After those events, Jorge always organized big parties for his famous friends and I went, but, of course, I wasn't known and the patovicas at the door wouldn't let me in. I stayed waiting for him or one of his assistants to arrive, and many celebrities who knew me because I had done their hair greeted me, but they kept going, except for Mirtha: she immediately grabbed my arm and entered the party with me. 'Don't stay here waiting, Lizy, let's go together.' I will never forget that gesture because she defines her completely ".
Mirtha immediately agreed to be the godmother and at the ceremony she also spoke, emphasizing coexistence and the stage that awaits the couple and the essential role, according to her perspective, that love has in life: "Coexistence It's not easy, so I hope they'll be together for many years and be happy. Enjoy life and there is nothing more important in life than love. Before the celebration, Lizy also said that Mirtha's transfer to Berazategui worried her, but she reassured her all the time and she always told her to worry about her party because it was a moment for her to enjoy and remember. her.
Simple and elegant. Although for the last Martín Fierro, Lizy Tagliani was dressed by Gino Bogani, for her wedding she chose Pablo Ramírez and with a premise, to be comfortable because she wanted to dance and have fun, and she was not of the idea of ​​making changes of dress. And so it was, a dress made of Japanese silk satin, straight and loose, in white, but with black details that created a subtle contrast. The touch of color: a bouquet of red roses. For his part, Sebastián Nebot wore a classic jacket.
Just as Lizy had her band of friends from when she was not so famous and those she added as her popularity grew, Nebot had hers, more than thirty guests among relatives and friends who traveled from Mendoza. He was born in that province and there he also met Lizy. It was a year ago during the Harvest Festival and what began as a friendship became this already formal present.
All together. Among the guests were many names from the Telefe grid. This is its top manager Darío Turovelzky, the different members of the Vero Lozano program where Lizy was a panelist for a long time, also Gustavo Yankelevich, Wanda Nara and Mauro Icardi, Andy Kusnetzoff –who had her on his program for almost two years–, Nicole Neumann – one of Tagliani's first famous clients–; and also Karina, La Princesita, Soledad Pastorutti, Humberto Tortonese, Elizabeth Vernaci, Pablo "Chata" Prada, and Damián Betular, who was in charge of making the wedding cake. And also, there were several of the artists with whom Lizy shared tables when she was an artist from the Buenos Aires alternative circuit.




Source link