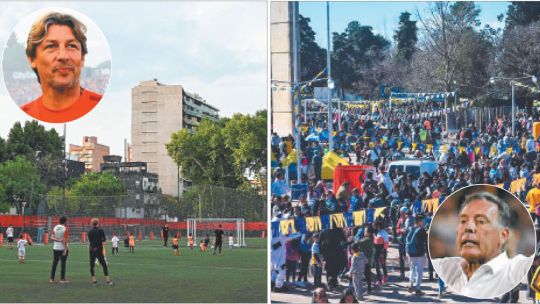 Almost no one in Buenos Aires knows who Lorenzo "Jimi" Altamirano was. Street juggler and punk rock musician, on Wednesday, February 1, he was taken out of a Renault Sandero in Parque Independencia and shot three times. They left him dying at the gates of the Newell's field with a piece of paper addressed to drug traffickers and bars: "Damián Escobar, Leandro Vinardi and Gerardo Gómez stop taking boys out of the club to shoot shots in Rosario." Escobar and Vinardi are the leaders of the leader of the gang "Los Monos", Ariel Máximo "Guille" Cantero, imprisoned in the Marcos Paz prison.
According to the Justice investigation, Altamirano had no connection with Newell's or with drug groups. The location was probably chosen to amplify the mafia message and multiply the repercussions of a reckoning.
Altamirano lived in the west of Rosario, the same area where the Único supermarket of the family of Antonela Roccuzzo is located, who received 14 shots in the forehead along with a threat written on a cardboard that traveled the world: "Messi, we are waiting for you . Javkin is a narco, he is not going to take care of you ".
Soccer, which in Rosario takes the form of a pagan ritual, is often used by different organized crime groups to give visibility to their violent inmates. Something that affects, directly or indirectly, the daily life of the two most important clubs in the city.
Ramiro Colabianchi, vice president of Central, admits to PROFILE: "It is undeniable that the news influences. We have to work from our place to pacify. Lower the tensions, and that the institutions move away from this".
This week, every word or statement at Newell's is measured far more than ever before. The leadership prefers silence to try to cut a news story that completely harmed a club that dreams of Lionel Messi returning before his retirement. "Logically, this type of thing does not help at all, not even for a footballer or a company to come," they release, in line with what the coach Gabriel Heinze, Messi's former teammate in the National Team, had said: "This does not attack only against Leo, attack everyone. Of course it drives him away from Leo and everyone else. We talk about him for what he is Leo, but there are also many guys who would like to return. And he also distances you from many things, "said the Gringo.
Ezequiel Unsain is the goalkeeper for Defensa y Justicia, but before that he is a fan of Newell's, the club that promoted him to First Division. His family lives in Rosario. But fanaticism sometimes opposes reality. "We all have the illusion of seeing Messi competing in Argentine soccer. As a Newell's fan I am very excited to see him play in our jersey. But if I were his friend, I would tell him not to come," Unsain said.
A month ago, the Central coach, Miguel Ángel Russo, put the problem on the table. In a press conference, he assured that he could not reinforce himself as he wanted due to a multitude of factors, including the climate of violence that is breathed in some areas of the city. "We even find wives of players who do not want to come to live in Rosario due to the violence and insecurity with which they live. It's a reality, it's very hard and it pains me to say it, but we hit that too," Russo said.
Colabianchi links this with an expectation that all the rogue town has: the return of Ángel Di María, who has already admitted on several occasions that he dreams of retiring with the Central shirt. "What Miguel said is more of a concept than a certainty. Undoubtedly, situations like the ones this week can influence a future decision, even though elite footballers have different protection from the rest, "he says.
Rosario is much more than the climate of violence that surrounds it. For the two most important clubs in the city it is a problem. They know that they can help, but they also know – and say – that the solution must come from other areas.
A flag of support to Messi
Last night, at the close of this edition, fans of Newell's, the club where Lionel Messi began his career and of which he is a fan, displayed a flag in support of the star at the Marcelo Bielsa stadium, after the threats against the player and the attack on a place that belongs to his in-laws in Rosario.
"Leo, you are the heart of a country that loves you. Newell's is with you", read the flag with letters in the red and black colors of the Rosario club and which they located behind one of the arches.
The message of support was known through social networks, hours before the local match against Barracas Central, for the sixth day of the Professional Soccer League.




Source link