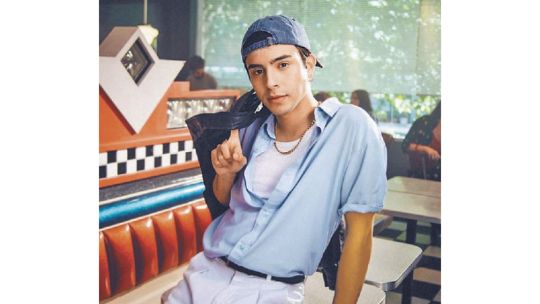 At this point in my career I feel, if I had to find a word to define it, quite mature. I think that the search I'm doing, at show time, everything, implies maturing, in my music as well. Achieve the evolution of what he had been doing and take it to another level" says Rusherking, the musician from Santiago del Estero who on March 24 confirms his good moment playing at the Movistar Arena stadium. News at the time of superficial media for his courtship with the "Chinese" Suárez, Rusherking has established itself as one of the most powerful names in current Argentine music. And even so, he says expectantly for his show on March 24: "What moves me about music is the show, playing live. Although the other is great, something very true is transmitted live. Living is what moves me the most and there you can show yourself how you are. You can touch people's hearts and have them touch yours".
—What did you learn about music being in the music industry?
—I learned many things. And that is the truth. Making music is not just making a song and uploading it. Are a lot of things. And not all of us are ready for those things. You have to learn things like platforms, business, record companies. I love that too, because it keeps you alert. You are always there, you are learning, you are understanding universes such as marketing, everything that a song implies and needs to do well at this time in the industry and in the world.
What do you feel is the most important lesson then?
—The most important lesson I learned has to do with my beginnings. Coming to Buenos Aires so young and getting into music so early, I discovered that it's not always full of good people as one thinks. Over time, whether you like it or not, you start realizing who is who. That's one of the things I learned. That was also when I understood what my decision to continue with music had been worth, that is, to move and bet everything on a career in music. I was confident that I was going to do well, but up to that moment I had received a response from my friends, from my family, from what I was doing. Always trust what you did.
—How would you define for those who are not encouraged what it is to create? And how would you give them that push they need?
—The truth is that the process of cheering up is very difficult. It was very difficult for me too. Cheering up is getting out of the routine, from what one has been doing, from the education one received. Over there, if you do, you study, you go to the university, there is a route: you go out to look for a job. Another life implies some risks that you do not know, few clear. So there is a lot of risk. Cheer up is to see what's around, show that you can, and see who could. It is to see the closest example you have and encourage yourself to do what you think is worthwhile.
—What was that example for you that made you think "okay, I can do it"?
—My example was not a couple of music in the style that I do, but it was a musical example from Santiago del Estero, where I come from, such as Los nocheros. Or the same people who left Santiago and broke it, broke it in Buenos Aires, and broke it all over the world. They started like me, and they allowed you to think "so, I have a chance, so maybe I can do it". Because I feel that the important thing there was the first step: cheer up.
—How do you live what is happening to you now at the time of success?
—Little, because I always have a full head. There's always something. Now you have this I am from March 24. Big things always come up, they are always important. I always try to go down a bit, but I certainly don't complain because the truth is that I love what I do. I love being full every day. I consider that I never believed it. I never believed it more than anyone, but I don't want to be the most humble either: the important thing is our feet on the ground. That they tie you up, like my family does, or my girlfriend.
The movement with desire
Do you feel part of a movement? Of a new generation?
-Yes of course. I feel part of a generation that is very hungry, that came to eat a lot of things, that is ready to prove itself, and that has already done so, despite the public and critical eye of other people from other generations more accustomed to rock, to other Argentine music. We want to innovate, but we also really want to be able to show what we have to give. We want to prove ourselves. We came to tell about the union of genres, of artists. They have told me artists from other generations who did not cross paths so much before: if you played rock, and you did this or that, they looked at you differently and criticized you. It is that, open people's heads. If we go to the same side, it is better.
—What are you planning for the upcoming show?
—We want, as I told you, to make a more mature show. It's going to be a great show, we're planning a lot of moments. Many more friends are going to come to sing with me, friends are going to come to bank me. There is a song that will surprise you. It will reach people's hearts yes or yes. Although I was doing well in Santiago del Estero, people were already listening to me online, but even so it was a big step to trust and come to Buenos Aires. Although I did not know, I got the same. That's why I really want you to see what we've been putting together. I feel this is going to be a night that we will all remember. I feel like it's going to be a bonding moment, something I want everyone to see.




Source link