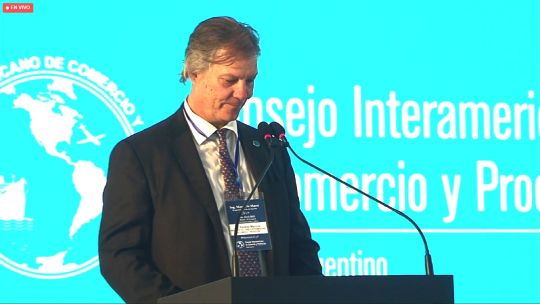 In the midst of the tension that Juntos por el Cambio is experiencing, former President Mauricio Macri is already at the Rural Society's property in Palermo to have lunch with businessmen from the Red Circle.
The objective of the meeting is to provide clear definitions about the political-economic future of the country in the event that the opposition coalition wins the presidential elections.
In his opening speech, Marcos Pereda, president of Cicyp, assured that "the country is adrift." He at the same time pointed out that "the country as spoils of war and as a battlefield must end."
Macri will be the only speaker at the lunch Inter-American Council of Commerce and Production (Cicyp). It should be remembered that the CICYP is a non-profit civil association, founded in Uruguay in June 1941. Its mission is to promote and defend the principles of private enterprise and individual initiative, to promote solid and sustained economic and social development throughout the American continent. .
In August of last year, the organization renewed its authorities by naming Marcos Pereda, vice president of the SRA, as its president. The list is completed by the following vice presidents: Mario Grinman (Argentine Chamber of Commerce and Services); Adelmo Gabbi (Buenos Aires Stock Exchange); Daniel Funes de Rioja (Argentine Industrial Union); Eduardo Eurnekian (Argentine Chamber of Commerce and Services) and Gustavo Weiss (Argentine Chamber of Construction).
Schedule in the afternoon
From 3:00 p.m.Javier Milei, Miguel Ángel Pichetto, Patricia Bullrich and Horacio Rodríguez Larreta will present their proposals to those present. It is estimated that the current president of the Republican Proposal will meet at 3:15 p.m. with the authorities of the Rural Society and at 18.40 he will do the same the Head of Government of the City.
News in development…




Source link