Mariquita Delvecchio He came out at the crossroads of the panelist Cynthia García after the round trip that he starred in on Tuesday, April 11 at night with Carlos Maslatón in the context of a television show. The lawyer dedicated a spicy tweet to her and disqualified her for "disrespectful" and "confused" as a result of the risqué expressions that the journalist dedicated to the economist, who had bullied her for "chavista" y "bolche".
The discussion took place on the show Hard to tamewhere Maslatón asked García if he was a Chavista. "I'm a Chavista, I'm a Peronist… but I don't understand the disqualifying word"Cynthia García responded as the temperature of the debate rose.
The peak of tension took place moments later, when Maslatón commented that attended the funeral of Hugo Chavez and identified a rubber doll instead of the body of the deceased.
"I was in Chávez's drawer. Do you know what was there? A rubber doll… I saw it, I pounced on Chávez's drawer. It wasn't real, it was a rubber doll. It is not an opinion, I saw it," said Maslatón.
"No, no… you're going to shit"Cynthia García answered emphatically.
"Disrespectful" and "tortorante": Mariquita Delvecchio's tweet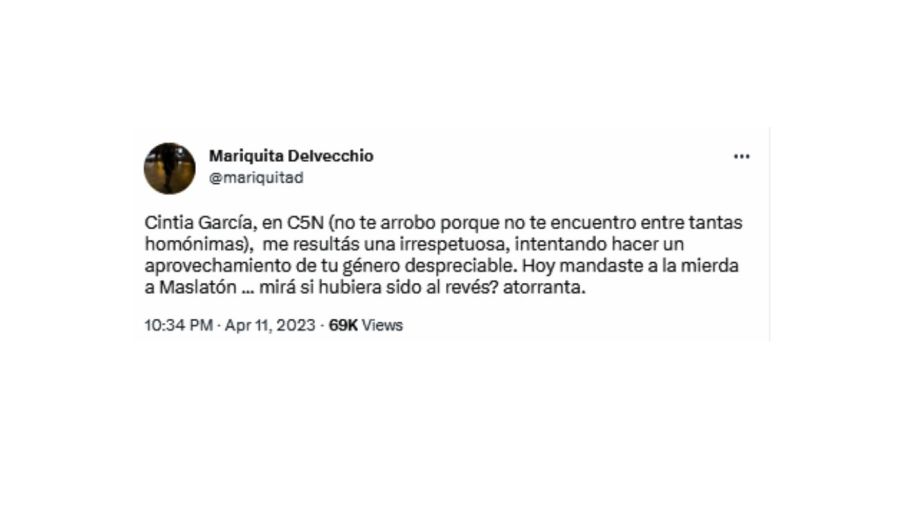 In the face of this, Delvecchio supported his partner on social networks and disqualified the journalist for the insults pronounced.
"Cintia García, in C5N (I don't love you because I don't find you among so many namesakes), I find you disrespectful, trying to take advantage of your despicable gender," Delvecchio said on Twitter.
"Today you sent Maslatón to hell .. Look if it had been the other way around. Torranta"added the couple from Maslatón, visibly outraged.
CA/ED




Source link