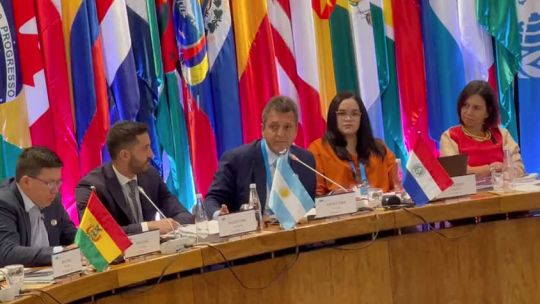 The Minister of Economy, Sergio Massa, questioned Europe's decision to maintain the use of fossil fuels like coal, under the meeting of Development Bank of Latin America (CAF) Made in Chile.
"My country is a financial debtor of the most complicated globally, but it is one of the main environmental creditors, and that equation at some point, somewhere, we are going to have to put it on the table," said Massa.
Sergio Massa activated the anti-reprofiling insurance, amid complaints of a financial destabilization plan
The head of the Palacio de Hacienda maintained that "on the path of energy transition, The million dollar question is whether when developed countries ask us to stop gas or liquefied gas development projects, are they going to stop buying liquefied gas? Are they going to close the gas ports in their own countries? Or are they asking us to make a transition effort that their own economies aren't doing while we watch Europe reopen coal plants?"
"I think that this is a discussion that in any case we have to give it with a global perspective," he said.
He explained that he did not want to stop making this comment because it is "always unfair that our countries that are always environmental creditors, have to make an extra effort for those who are environmental debtors".
Loans for the Néstor Kirchner Gas Pipeline
Massa, highlighted on Tuesday the credit of the CAF for US$ 840 million granted to Argentina to carry out complementary works on the President Néstor Kirchner Gas Pipeline (GPNK) and for the implementation of a program for people with disabilities.
Massa met this morning in Santiago, the Chilean capital, with the CAF Board of Directors, headed by its president, Sergio Díaz Granados.
He also spoke in the framework of the Assembly of the multilateral entity, in which he highlighted the importance that the President Néstor Kirchner Gas Pipeline will have not only for Argentina but also for most of South America, to the extent that it will allow the transport of the resources generated in "the world's second shale gas reserve", in reference to the deposits in the Vaca Muerta area.
LM / ds




Source link