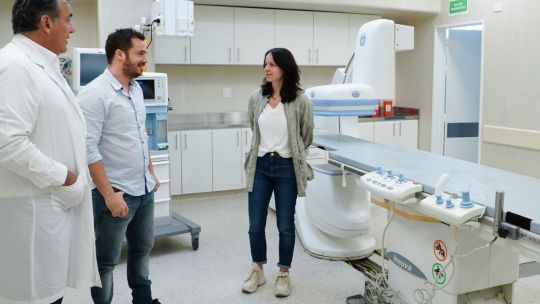 The mayor of Vicente López, Soledad Martínez, inaugurated the new Institute of Cardiovascular Surgery and Hemodynamics that was incorporated into the Houssay Municipal Hospital.
The community chief stressed that "a new Cardiovascular Institute is operating at the Houssay Hospital in Vicente López, a service that we have needed for a long time in this hospital and with which we will be able to perform cardiovascular interventions of different types."
He also expressed: "We will be able to train doctors and professionals in this hospital thanks to this service, so that in the coming years doctors will also be trained at the Houssay Hospital."
This new service allows highly complex surgical procedures such as angioplasties, pacemaker and stent placement; these are surgeries with high demand among patients with cardiovascular diseases.
Cardiovascular diseases are one of the leading causes of death in adults globally. Its early diagnosis and treatment is essential to guarantee the quality of life of people affected by these pathologies. With this new cardiology service, it will be possible to perform more than 150 surgeries per month.
This new semi-hybrid operating room specialized in cardiology has state-of-the-art hemodynamic equipment. This therapeutic modality allows comprehensive care for patients with complex cardiovascular pathologies. General medical equipment and new and more modern facilities were also incorporated.
In this way, cases that were previously referred to other hospitals will be able to be treated at the Municipal Hospital with medical professionals specialized in this type of intervention.
"Our health system is a reference throughout the region and throughout the province. Many people come to the Vicente López Hospital to be treated, of course we prioritize our neighbors because it is our responsibility, but we always attend to everyone", added Soledad Martínez.
And he concluded: "We are proud of this hospital that year after year continues to advance in its work plan, expanding services and adding professional doctors who are very well prepared to care for the residents."




Source link