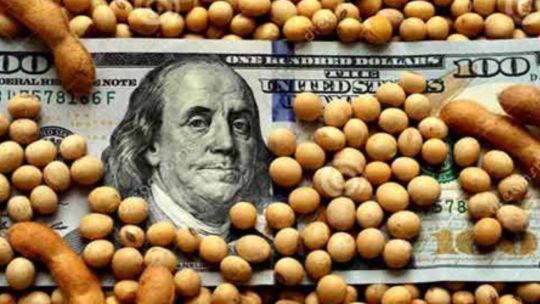 When announcing the dollar-soybeans I last September, from the CENE we raised the question: "From now on, who is going to settle foreign currency from soybeans or any other export to the official dollar?
Once the economic leadership admitted that the official dollar is insufficient to encourage exportBy establishing the soy-dollar, the Malbec-dollar, the techno-dollar, etc., each sector is waiting for a differential dollar before finalizing an export.
Faced with the start of the new harvest, the question acquires dramatic relevance, aggravated by the terrible drought which significantly reduced the expected volume.
¿At what level will the government set the dollar-soybean to encourage sales and recover part of the currency sold by the Central Bank in the first three months of the year?
For rural real estate it is a good time to buy a field and rent it
Let us remember that the dollar-soy IIwhich was in force until the end of December, had a value of $230 per dollarthat is, 33% above the official dollar at the time the regulation came into effect.
New harvest, new unknowns
What about the rest of the agricultural products? Already in December 2021 from the CENE we had suggested introducing a differential exchange rate for exports of goods and services that do not make up the consumption basket, as a first step towards an exchange rate unfolding that would allow the blue market to be legalized.
We remarked that to the extent that it is a matter of goods and services that do not make up the consumption basket they would have a minimal effect on inflation and would encourage a strong entry of foreign currency into the coffers of the Central Bank.
Something of that seems to be glimpsed in the announcement of the Minister of Economy of extend the differential dollar towards products such as peanuts and other regional
Mass blackout: the Cordovan company that generates its energy with peanut shells
However, as the list expands, the difficulty arises that some of the candidates may have a impact on the consumption basket and feed back the inflation.
It is the case of the advertised dollar-malbec and ricewhose harvest, on the other hand, is not expected to be very abundant due to the effect of the drought.
In any case, it would be desirable to move towards a more simplified exchange regime than the current one.
*Director of the Center for the Study of the New Economy of the University of Belgrano




Source link