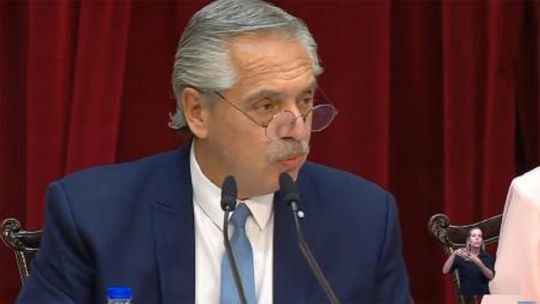 President Alberto Fernandez began the parliamentary year this Wednesday the 1st in the National Congress with a controversial speech, after meeting again with Vice President Cristina Kirchner. The presentation that took place in the Chamber of Deputies generated repercussions both in the opposition as in the ruling party.
"What he did president today were two hours of cynicismof lies and grievances to the institutions", assured the deputy Mario Negri. "It was a lamentable waste of time for Argentina and it represents its four years of government," added the senator. Alfredo Cornejo.
"The president lives in a country where none of us live. In a country with 100% inflation, with people who work and are poor, and with insecurity problems, the president Think we're at Disneylandsaid the deputy Facundo Manes.
Fernando Iglesias insulted Alberto Fernández in the middle of the session in Congress: "It is an honor that you insult me, deputy"
For his part, members of the ruling party also expressed themselves about the president's sayings. "It is a speech that forcefully shows the work we are doing", said the Minister of Security Hannibal Fernandez.
"We describe things that worry usthere is a collusion between the media and the judiciary that led to a political persecution of the vice president of the Nation", said the chief of staff Agustín Rossi.
"It seems to me that the opposition was misplaced when Alberto Fernández spoke of the institutional deficits"said Labor Minister Kelly Olmos. "We must support the management, we cannot allow people to go the other way. The four years of macrismo left us where we are "said the presidential spokeswoman, Gabriella Cerruti.




Source link