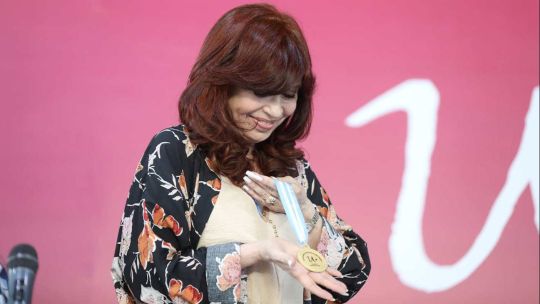 From 4:00 p.m. in the Buenos Aires town of Avellaneda, political, social and union groups linked to Kirchnerism participate in a plenary session of militants, with the slogan 'Fight and Come Back, Cristina 2023'. The objective is "break the ban" and claim for the candidacy in the next elections of the vice president Cristina Fernandez de Kirchner.
The meeting this Saturday takes place at the headquarters of the National Technological University (UTN) of Avellaneda, with various activities aimed at "organizing the fight against the ban" of the head of the national Senate.
The novelty will be the presence and speech of maximum kirchnerwho will close the meeting organized by the Buenos Aires Minister of Community Development, Andres Larroque. The Buenos Aires governor will also speak, Axel Kicillof, and the opening act will be in charge of the mayor of AvellanedaJorge Ferraresi.
The day the slogan was launched is no coincidence: this Saturday will mark the fiftieth anniversary of the triumph of Héctor Cámpora's candidate, which allowed Peronism to end its 18-year ban. Those who support the former president consider that they should strengthen her figure so that she can present herself as a candidate and that this does not speed up judicial times and compromise her candidacy.
Act K in Avellaneda, but the 'Cristina Presidenta' operation plans an official announcement in May
Andrés "Cuervo" Larroque called on the militancy to "respond with force and epic"
The general secretary of La Cámpora, Andrés "Cuervo" Larroque, confirmed that with President Alberto Fernández he maintains differences "of political, ideological and philosophical conceptions", while he trusted that the militancy will "respond with force and epic". to the attempt to "ban" the vice president, Cristina Kirchner.
The Kirchnerist referent stressed that the plenary of the militancy in Avellaneda "It is the beginning of a plan to fight the people against the ban" and affirmed that the militants come "from very hard blows" and called to "respond with force and epic", he said in dialogue with La990
"To the ruling (in the Highway case) and the assassination attempt, we must respond with mysticism and mobilization", stressed the former national deputy, who considered that the plenary session "has to be a turning point".
The Buenos Aires official charged again against President Alberto Fernández and affirmed that he has differences "from the beginning" and "of political, ideological and philosophical conceptions."
News in development




Source link