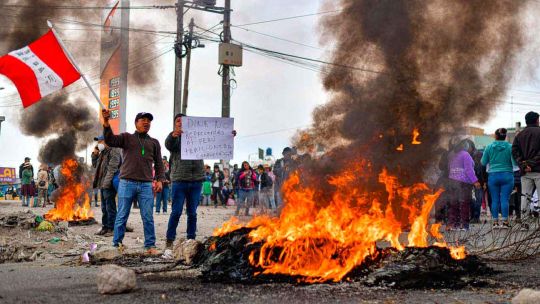 He government of Peruthe world's second largest copper and zinc producer, expects Commodity shipments begin to normalize in a few days as the country's worst protests in decades subside.
The recently named Minister of Energy and Mines, Óscar Verasaid in an interview that the issue of protests has been reduced to a minimum at this time and that the mining corridor is already open and in the next few days they will begin to extract mineral.
The full resumption of shipments will come as a relief to tight global metals markets, which have been hit by a wave of protests sparked by the ouster of former President Pedro Castillo. Months of unrest, which restricted transport of metal to ports and supplies to mines, hampered operations for companies including Glencore Plc and Freeport-McMoRan Inc., while exposing risks to commodity production. of emerging markets.
Protests in Peru affect global copper supply
On the sidelines of a conference in Toronto, Vera said Monday authorities eased tensions by establishing lines of communication with communities and understanding their concerns. In many cases, the conflicts were related to stalled investment in local water and health projects, she noted, adding that the government has intensified efforts to ensure public works are carried out.
Definitely, riots persist in some areas. In Puno, the epicenter of some of the worst protests, roadblocks have continued even after those in other mining regions were lifted. Although Minsur SA's major San Rafael tin mine has restarted operations after a 45-day stoppage, it is still a long way from reaching full capacity.
Minister Vera said direct and continuous communication and concrete action to address the demands were paying off, including at MMG ltd.'s Las Bambas mine, which has been the victim of more than 400 days of roadblocks on its seven years of history
Peru's economy slows down more than expected
With a minimal level of blockages, Las Bambas will likely resume transporting copper "between today and tomorrow," Vera said. She also noted that she hopes there will be a lasting solution with military presence along the roads and authorities on the ground to make sure the mine's commitments are met. There are also proposals to change the route used to transport ore to the port.
It is likely that the Peru's copper production has been affected by the protestsbut Vera said that he was very optimistic that in the next few days everything would start to normalize and that production would recover for the rest of the year.
He Government has identified a total of US$6.9 billion in mining investments this year and next, made up of seven projects with probability of execution. Still, there are some projects, such as Southern Copper Corp.'s Tía María, that while technically sound, require more work to convince local communities of the benefits, he said.
Mining activity is the engine of the reactivation of the productive chain
Oil reentry
Vera defended plans by state-owned Petróleos del Perú SA to resume drilling in the Amazon junglein what was once the largest and most spilled oil field in the country.
Petroperú's return to the highly profitable oil industry carries little risk, because it is doing so in a field that only requires reactivation rather than capital-intensive development, he said.
For Block 192, located in a remote area near Ecuador, Petroperú is looking for an operating partner and would be negotiating with a company, the minister said.
rm




Source link