in 2022 you could buy and three liter sunflower oil or a package of battered chicken of 360 grams with $1.000 pesos which also gave a return $160 y $500respectively.
However, today to buy the same products should be used the entire $1,000 bill, plus $800 to buy the oil and $200 more to buy the chicken batter. The data comes from a report prepared by the consultancy Focus Market.
The Government expanded the Budget by more than $50,000 million
"The lost of purchasing power of our currency is accelerating and its nominal value is at its lowest level since hyperinflation. Every time the Argentines require more number of tickets to perform the same shopping mission. In fact, a purchase that in 2022 was made with a $1,000 bill today requires 3 or 4 additional bills to be able to make it," he said. Damian Di Pace Focus Market Manager.
Other products that cannot be bought with $1,000
in 2022 a six pack of beers was $670now in 2023 you have to use the full $1,000 bill and add $250 pesos, since today it is in $1.250. The same goes for a potato chips tubewhich, last year was in $310 and in the current year it is $.1050.
He fernet was not left behind. In 2022, the 750-milliliter bottle was at $760, and today it costs $1,840 according to the Focus Market survey. He roasted coffee for 500 grams it also suffered from the inclemencies of inflation and went from $537 to $1,220.
In the same way it happened with the liquid soap for washing clothes for three liters. In 2022 it cost $575 and today it costs $1,220; Meanwhile he sanitizing fluid it went from costing $610 to costing $1,120 in 2023.
Why is this happening?
"The macro fundamentals are several, since the current fiscal deficit is financed with monetary issue and more placement of debt in pesos in the market. This is generating more future uncertainty and in the present the banknote loses confidence, increasing its speed of circulation. Argentines get rid of the peso at a faster rate despite the fact that the Government aspires them with more debt placementDiPace commented.
And he added: "There is data on the Argentine macroeconomic distortion that explains the deterioration in the micro. In 2023 the $1,000 bill is already the one with the highest issue and circulation in comparative terms to the rest. However, ATMs are being replaced banks 2 or 3 times a day, there is a record for the sale of ticket-counting machines There is not enough for shops and bank warehouses, which is why they are having to build or rent new spaces to store them," warned the economist.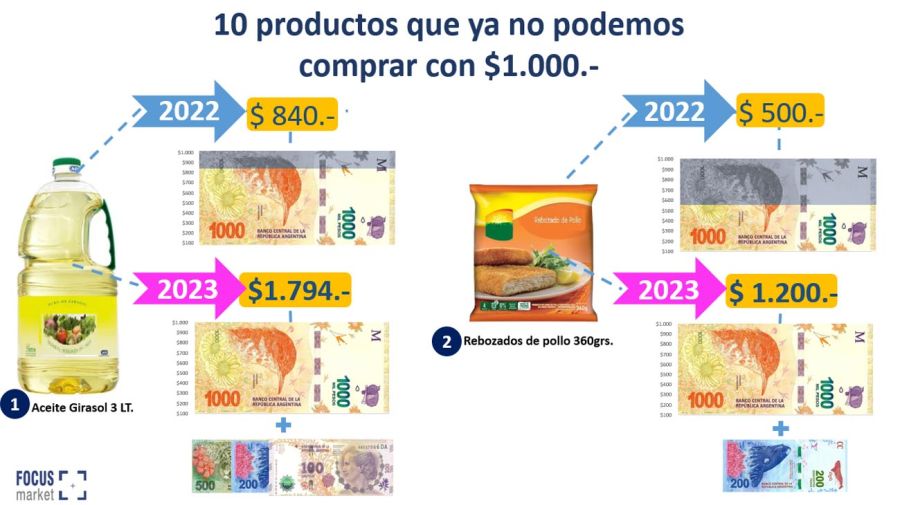 For example, in 2022 you could buy a package of XL size diapers x 36 units or a sachet of fabric softener x 3 liters with $1,000; this left change of $228 and $480, respectively. However, today to buy the same products you must count, apart from the full $1,000 bill, with $780 more to buy diapers and $200 more to buy fabric softener.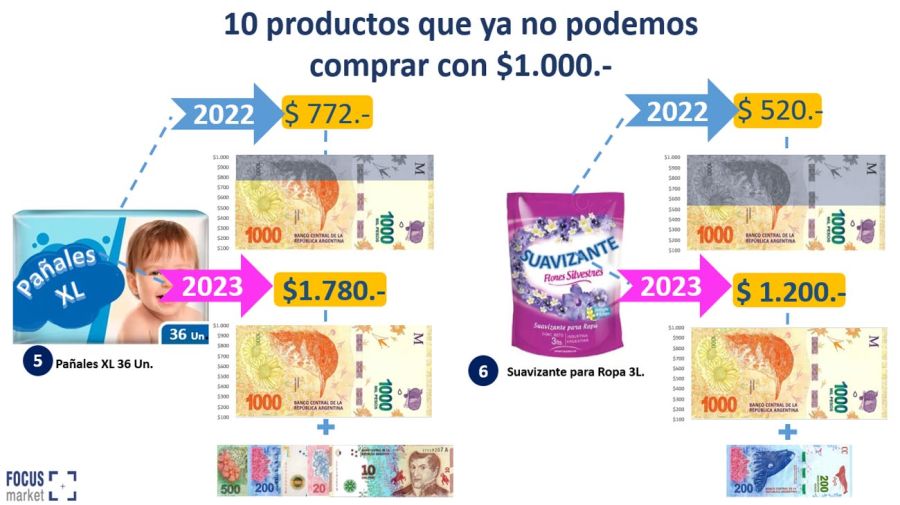 "Without a doubt, not getting a new bill to compensate for the loss of purchasing power of the $1,000 bill since its birth in 2017 to date generates a cost, insecurity in its transfer and a problem for all Argentines," said Di Pace.
This new denomination should be a $10,000 bill, but since it would already lose half of its purchasing power when launched real, the issue should be accompanied of a $20,000 bill to anticipate the deterioration it will have this year with inflation projected at 98% year-on-year by 2023", concluded the director of Focus Market.
SE / MCP




Source link