The Entre Ríos city of Concordia record the tallest poverty index in the country with an indicator of 55,2% of its affected population, while the City of Buenos Aires (CABA) had the lowest incidence with 16.1%, according to official figures from the INDEC.
The Gran Resistencia was the second highest record with 54.0% of its population below the poverty line, while other ten urban conglomerates registered indicators above 40%.
After the district of CABA, that of White Bay it was the second with the lowest record of 28.4%, while the remaining conglomerates had indicators of between 30 and 40 percent of their inhabitants living in poverty.
In the metropolitan area, the suburbs of Buenos Aires had 41.0% of their population living in poverty and concentrated 50.1% of the national total of inhabitants in this situation.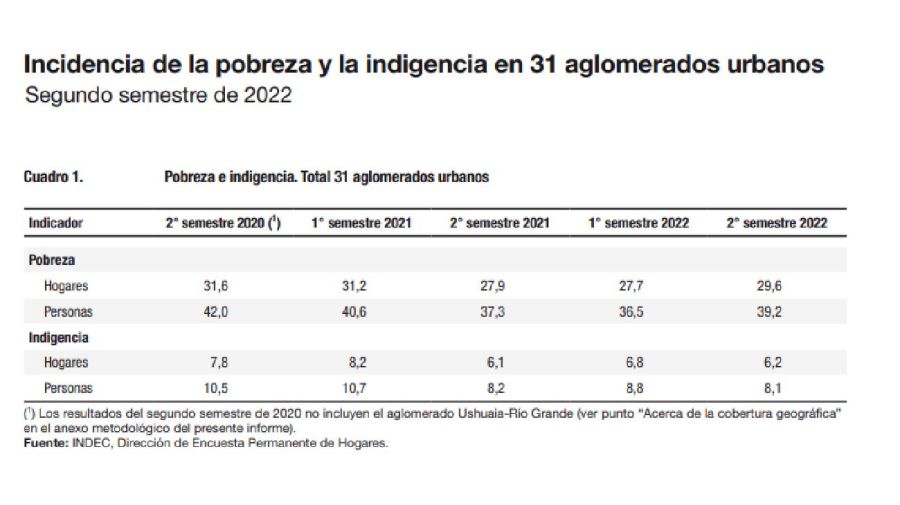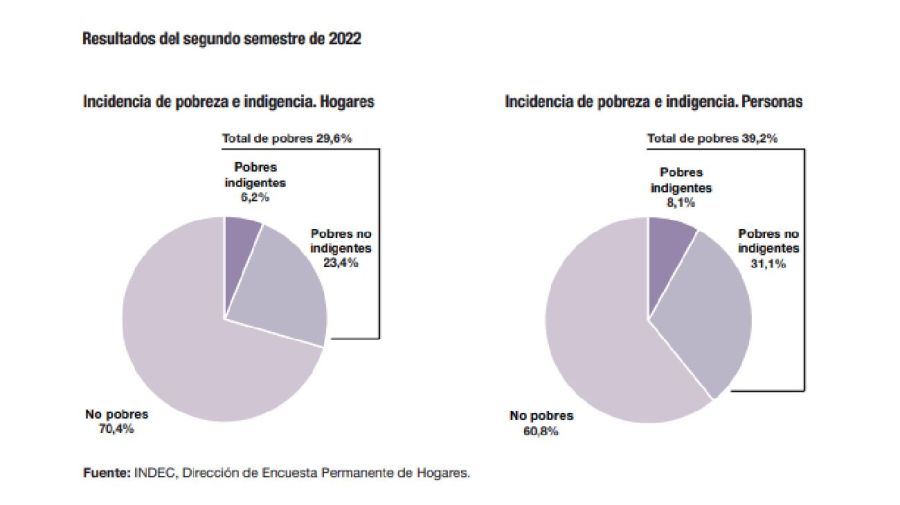 Among the districts with indicators above 40% According to the INDEC report, those of Santiago del Estero-La Banda with 46.5%, Corrientes and San Luis with 45.2%, followed by Catamarca 44.3%, La Rioja 44.0%, Tucumán- Tafí del Valle 43.5%, Santa Rosa-Toay 41.7%, Rawson-Trelew 40.1% and Salta with 40.1%.
The district with the largest population below the line of indigence was that of great resistance with 14.4%, followed by Salta and Formosa with 13.2% of indigence among its inhabitants.
the conglomerate Viedma-Carmen de Patagones was the one with the lowest indigence indicator with 2.8%, followed by Ushuaia with 3.7%, CABA with 4.1 and Posadas with 4.8%.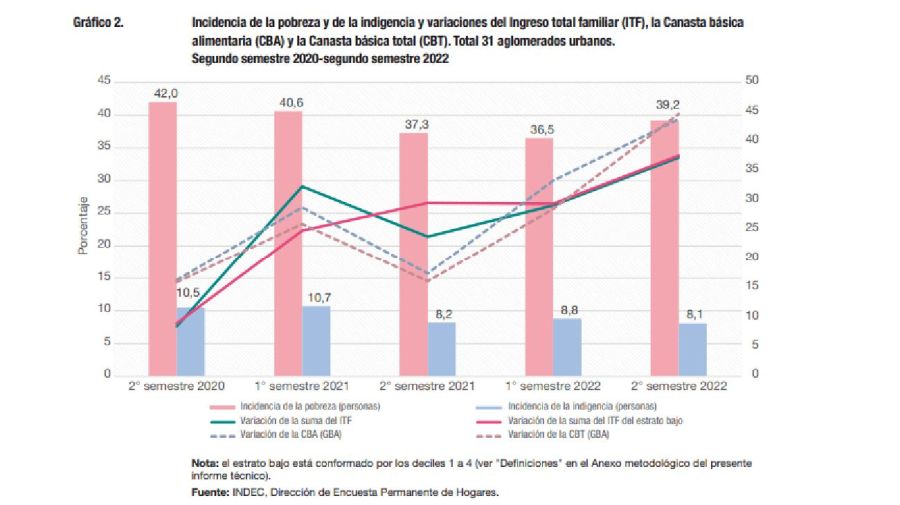 According to INDEC, more than half of the poor are under 14 years of age.
The recent INDEC survey revealed the alarming figures distributed by region and by age groups.
With respect to the first semester of 2022, the incidence of poverty registered an increase of 1.9 percentage points (pp) in homes and 2.7 pp in people. In the case of indigence, it showed a reduction of 0.6 pp in households and 0.7 pp in individuals.
Structural poverty in Latin America: what position does Argentina occupy in this ranking?
The INDEC figures cover a part of the population, so if they are projected to the entire country the number of poor would be around 17.9 million people.
Regarding age group, INDEC highlights that a little more than half (54.2%) of people from 0 to 14 years old are poor.
The total percentage of poor for the groups of 15 to 29 years and from 30 to 64 years is 45.0% and 35.0%, respectively. In the population aged 65 and over, 14.5% were below the poverty line.
CA/ED




Source link