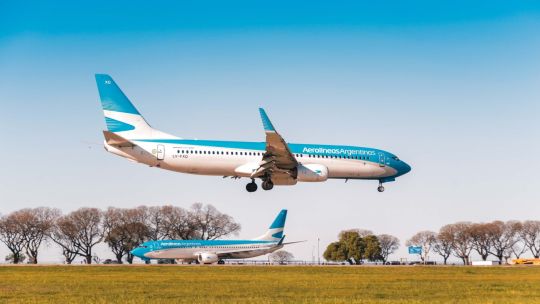 Within the framework of the strategy carried out by the Ministry of Tourism and Sports, together with a series of very aggressive commercial actions by Aerolíneas Argentinas, receptive tourism consolidates its recovery: the volume of visitor trips between January 1 and 21 March 2023 is equivalent to 97.6% of the pre-pandemic figures and the projected economic impact represents more than 94% of what occurred in the same period of 2020.
The flag carrier started a promotion to attract tourists from South America and the United States to Argentina, which is having very good impacts: more than 30,000 tickets were sold between February 23 and March 24, passing the income of reservations daily from 690 tickets to 1787, which represents an increase of 157%. The promotion continues until April 10, for travel in the fall low season until June 30, with the exception of the Easter long weekend.
After this successful experience, the strategy will be extended to fly from Madrid and Rome to our destinations. Sales will be from April 1 to 30 for trips between June 1 and 30 and between August 16 and December 20.
"Through a historic investment by the National State such as the Pre-Travel program, we achieved an absolutely record 2022 for national tourism. Now we have the great objective of recovering and exceeding the pre-pandemic international tourism figures and Aerolíneas Argentinas plays a decisive role in improving connectivity with the most important markets in the world", assured the Minister of Tourism and Sports of the Nation, Matías Lammens.
"These results consolidate the receptive profile that we are giving to the commercial strategy and are part of the strategic role of the company. Today, more than 80% of the tickets we sell on these flights are sold abroad. Aerolíneas is consolidated as the most important company for the arrival of tourists to the country" added the president of Aerolíneas Argentinas, Pablo Ceriani.
With these initiatives, the National Government seeks to consolidate the recovery of incoming tourism. According to official information, more than 3.1 million visitors from abroad entered the country between January 1 and March 21 of this year. Of that number, more than 1.7 million were tourists; that is, they spent at least one night in Argentina. And according to projections, the economic impact for our destinations exceeded 1,448 million dollars. Regarding the origin of tourists, Uruguay and the United States had higher figures than the pre-pandemic. Chile (21.8%), Brazil (15.1%), Uruguay (13.4%), United States (11.4%), Paraguay (7.1%), Bolivia (3.9%), Spain (2.9%), France (2.1%), Germany (2.1%) and the United Kingdom (2.1%) led the ranking of tourist income.




Source link