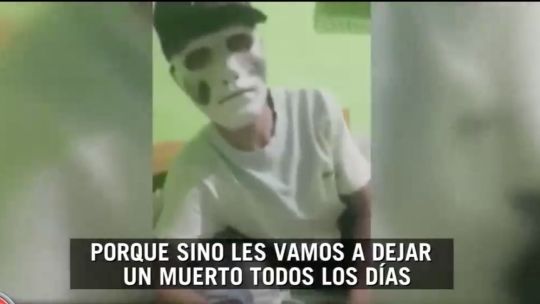 And 19 year old was identified as the author of the threats made through a video intended for relatives of the murdered child last Sunday in the settlement "Los Pumitas" of Rosario, maximum gerezfor which an arrest and arrest request was issued after a series of raids with negative results.
The Public Prosecutor's Office (MPA) of the Santa Fe city of Rosario reported today that the author of the threats was identified by the initials of his name as "ULE".
"He has a warrant for his arrest and arrest. released by prosecutor Federico Rébola", added the MPA in an official statement released this afternoon.
The video in question reached the phones of relatives of "Maxi" Gerez and other residents of the "Los Pumitas" settlement in the Empalme Graneros neighborhood on Tuesday, after the residents held a raid on Monday that led to the looting and collapse of properties attributed to a drug trafficker in the area, Cristian "Salteño" Villazón.
Alberto Fernández decided to send the Army to Rosario to participate in the urbanization of popular neighborhoods
The neighbors pointed to the Villazón, whom they syndicate as one of the retail drug sales groups in the neighborhood, because the shots that killed Máximo Gerez and three of his cousins ​​were injured They were directed to a property of the "Salteño".
After the destruction of the Villazón houses and the looting of some of their belongings, a young man sent a video in which he is seen wearing a mask in which Threatens neighbors to shoot them if they don't return their belongings.
"Listen, you guys are going to have to return the things you took from inside the house, because if you don't we're going to leave a bag inside the house every day", points out the young man who was identified today in the video, while holding a weapon.
He then adds, as he removes the magazine from the pistol, that "all these bullets go to you, guacho".
Day of fury in Rosario for the crime of Máximo Jerez: a detainee after the murder of the 11-year-old boy
And he concludes: "They better return the things because we are going to give it all lead".
According to the MPA investigation, one of the looted houses corresponds to Juan José Villazón, brother of "Salteño", head of the gang, who has been in prison since September last year after being sentenced to 15 years for the triple crime of relatives of another "transero" in the area.
The Rosario Prosecutor's Office today requested collaboration from those who can provide data on the whereabouts of the young man identified as ULE
In addition, he reported that raids were carried out in various parts of the city "with negative results in terms of his discovery and capture," although "police personnel carry out investigative tasks to find his whereabouts."
JD / ds




Source link