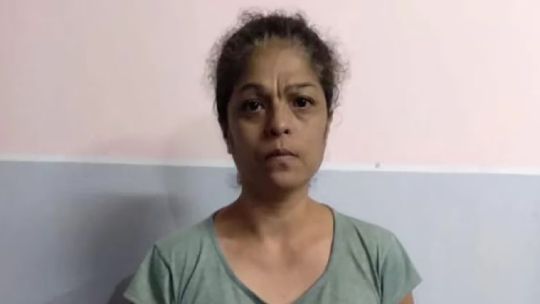 A woman who worked in a Children's Home dedicated to vulnerable infants in the missionary town of Puerto Rico accepted a sentence of 25 years for corruption of minors aggravatedin an abbreviated trial in which the re-victimization of minors was avoided, while it was revealed that some of them were filmed after being incited to have sex with each other.
According to the complaints, the woman, named Mirta Piris, currently 48 years old, subjected the children to abuses and corruption, and with the abbreviated trial he managed to avoid a process in which he could have received a sentence of 50 years in prison.
In total, it was confirmed that there was 11 victimswho called the woman "aunt," reported the site Misionesonline.
Domino effect? Another celebrity was denounced for child abuse, the third in ten days
The cases were discovered in November 2019 when the director of the home denounced the mistreatment and abuse committed by the accused, who had worked in the place from 2010 to 2018.
The psychologist of the establishment confirmed the veracity of the complaints.
Five boys between 2015 and 2018 were found to have been sexually corrupted in the living room of the housewhile six other young people had also suffered similar situations in the rooms of the place under threats.
It was possible to establish that the woman habitually subjected the boys between the ages of nine and 16 to bad treatments.
The press officer of the Boca women's team denounced the team coach for sexual abuse
What is "the game" that "the aunt" proposed to her victims?
On at least three occasions, always according to the investigation, the woman made the boys take mattresses from the bedrooms to the living room of the "little house" for what she called "a game".
In that place, Piris he made the boys undress and touch themselveswhile the older ones were induced to have sexual relations while she he filmed them with his cell phone.
These circumstances were narrated by the victims, since the videos could never be recovered.
For triple sexual abuse, a mayor of Entre Ríos was sentenced to 14 years in prison
The sentence was known after the agreement for an abbreviated trial that was signed by the head of the Prosecutor's Office of the Criminal Court II, Vladimir Glinka, and the defendant's defense, in which the woman accepted her responsibility for the facts.
The agreement was sent to the judges of Criminal Court II for their approval.
Judge Manuel Balanda Gómez directed the investigation of the case and brought the file to trial in January of last year.
Prosecutor Glinka maintained that "one of the reasons that led us to sign this abbreviated trial is that with this we avoid the re-victimization of minors" and remarked that in this type of crime, the penalty is effective.
CA/ED




Source link