The Minister of Security of Buenos Aires, Sergio Bernireaffirmed his statements about a controversial phrase regarding the president Alberto Fernandez and analyzed why he is not a "political death". He also assured that Aníbal Fernández has a "grudge" with the Buenos Aires voters, he spoke of his relationship with Cristina Fernandez de Kirchner and maintained that Axel Kicillof will be re-elected.
It was the month of May 2022 when the official, a persistent critic of the Head of State, also expressed how he claimed the Vice President: "The one who brought the drunk take him away". The phrase generated political uproar but was also read as an excessive attack against the person who holds the most important position in the country.
However, this Wednesday night Berni showed that he does not regret his words and even redoubled them. "It is never more relevant than now", he said first about the classification of the national president as a drunk. "It was a mistake that was made four years ago. Since he arrived, he has been in total dissent. And that he handled a 90% positive image. I warned him and that is why I have no conscience ", he deepened.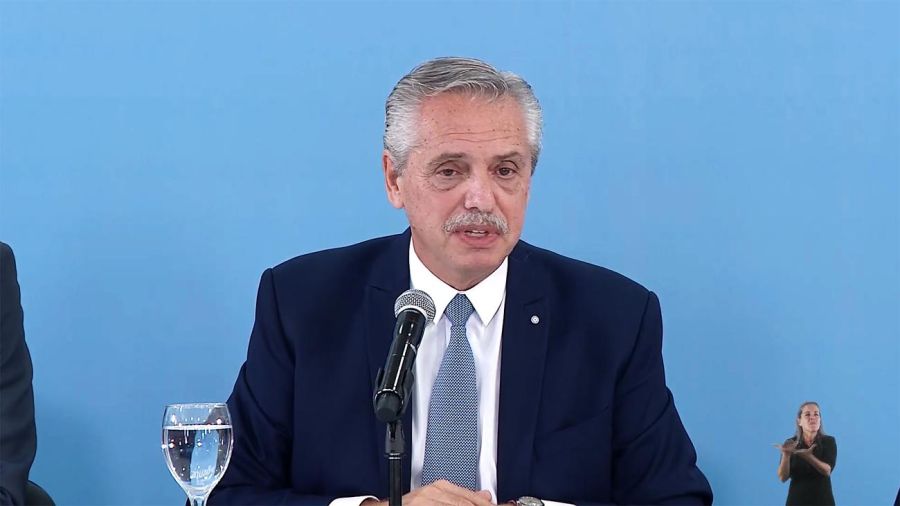 In addition to analyzing that his re-election at the head of the Casa Rosada "is impossible", he launched: "Alberto Fernández is not a political death because, at least, the dead do not bother". For Berni, Fernández "is politically disturbing in the reconstruction of a Peronism that has an ambition for power to truly transform" but also because of "his foolishness in continuing to say that he is going to be a candidate and, meanwhile, Peronism cannot be reorganized."
Berni said that his dialogue with Aníbal Fernández is "null"
The Buenos Aires official confirmed the rough relationship with his national counterpart, which had a new chapter this week due to the unconsulted dispatch of gendarmes to different locations in Greater Buenos Aires.
"There is an Aníbal before 2015, when he lost the elections for governor of the province of Buenos Aires. And another after the defeat. I think that from then on he has a lot of resentment with the people of the province of Buenos Aires, who turned their backs on him.. He lost to a stranger and that greatly destabilized his relationship and his environment within Peronism. From there, he is wrong, he is wrong and he is wrong, "said Berni.
"That rebellious Aníbal from the good vibes went on to do the same but bad milk," he expanded in his statement with Luis Novaresio in +Interviews by LN+.
Berni: "I love Cristina and appreciate her with all my heart"
The former Kirchner Security Secretary, who during the first stage of the Frente de Todos government maintained that Cristina Kirchner was his political boss until she left the space, acknowledged that he never lost a personal relationship and defined: "My discussions with her are never personal. I love her, I appreciate her as always with all my heart".
Cristina Kirchner: "I don't care if they are going to sentence me"
He also added that "these differences are due to the course taken by the Government almost four years ago," which he knew was going to collide.
Regarding his conviction in the case known as Vialidad and the accusations of corruption, he said he believed in his honesty and denied that he "had enriched himself illegally."
Regarding the possibility of him going for a third presidential term, he said that it is a personal decision and said: "I have no doubt that he is the person who has the most votes of his own in Argentina. But it is she who has to decide what she wants to make of her life".
Axel Kicillof on sending gendarmes to the Province of Buenos Aires: "They haven't sent any yet"
As an addition, he spoke of his own aspirations: "I want to be President to change the sad reality of this country. If I had the chance to compete this 2023, I would. But several planets have to align. Among them, having the 100 million that Larreta said he has for the campaign.
What Berni said about Kicillof and Javier Milei
"I see a governor who, regardless of the people's political persuasion, no matter the town he goes to, the people respect him. They don't boo him and, above all, he can grab the mate and talk to people who may not even agree with him. He rules well. We people from Buenos Aires are not stupid, "he said about the Governor of Buenos Aires, adding that he" is going to be reelected.
He then declared his sympathy for Milei, though he questioned her political ideas. "I love it. He is a very smart guy. I would eat a lot of roasts with him", said.
"I would be a friend but I would not work politically with him. He obviously does not convince me from his theoretical explanations of the economy. But I don't like him ", he closed.




Source link