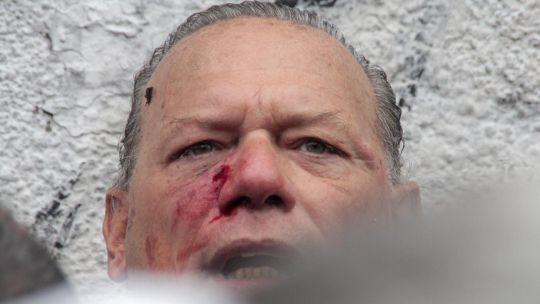 Far from the political tensions and climate of violence and anger that crosses a society trapped in economic and social problems, this Tuesday, April 11, there was a radio moment of strong reflection. It was carried out by the Buenos Aires Minister of Security, Sergio Berniand two of the bus drivers who beat him on Monday, April 3, during a protest for the murder of Daniel Barrientos.
"It is an obligation as a human being, as a Christian," replied the official when asked in Radio Miter if he would accept the apologies of the people who participated in the ambush for which he ended up with serious injuries, which occurred days ago at the crossing of General Paz and Alberdi. "I don't have any kind of grudge, I did what I had to do, which was work," he added.
The cabinet official Axel Kicillof he said he has no regrets to have approached the focus of conflict.
Sergio Berni compared himself to Fernando Báez Sosa but later regretted it
"You are talking to a minister who is where the people are, who knows they are angry and can react. I am not sorry I went. I am one of the few officials who can walk down the street and it is not dissociated from the reality of what happens to people", he responded to the journalist's query Edward Feinmann.
The cross between Berni and his attackers
Minutes later, one of the drivers who participated in the demonstration that took place a week ago and who was later arrested by order of the Justice in the framework of the investigation into the attacks on the official appeared in the interview. "I want to sincerely apologize. I am really at the disposal of what you need and of Justice", Opened.
He immediately assured that "at no time am I going to hide or dodge anything," and he insisted on apologizing. "These things cannot happen again, they must not happen. I want a calmer country. We just want a bit of security for the citizens; I want to extend my hand to him, apologize," he added.
Revelations of the Berni case
When he finished, Berni took up the floor with thanks for the possibility of exchanging on the air with his attackers. "I also thank you for this sincere act. My apologies were from the moment, I am not going to make the complaint because I understand this. Every time a Buenos Aires native is killed I feel the need to apologize to hundreds of Buenos Aires residents. I work every day for this," he replied.
Then came the turn Jorge Cerda, another of the drivers of Bus Line 620 who is involved in the investigation into the attacks. When they gave him the floor, he said that "I put myself in his position, I know he also understands it and sees it" to the problem that exists in the province of Buenos Aires with the increasingly violent episodes of insecurity.
"The system of violence has changed a lot in Argentina. I apologize and I hope you can accept them. It was a moment of euphoria and I looked bad. I put myself on his side, he sees reality," said the worker.
Bus stoppage on five lines that run through the City of Buenos Aires and the suburbs
Cerda asked Berni "to continue protecting us" and admitted that "it was a mistake to have raised his hand." She also sought to make it clear that "We are calm people, we are not violent."
Berni and his comparison with Báez Sosa
The radio crossing occurred hours after Berni launched a strange comparison between what happened to him and the murder of Fernando Báez Sosa. "It is not hitting a minister, it is hitting a person in a bogus way, which goes back to Fernando Baez Sosaand look how it ended", he had said in Fontevecchia Mode (Radio Perfil).
"I said that if I had not had the strength of my activity and my life story, it was very likely that I could end up like Báez Sosa, no one can guarantee that," he added. "I'm not comparing one thing to the other," he clarified.
as/fl




Source link