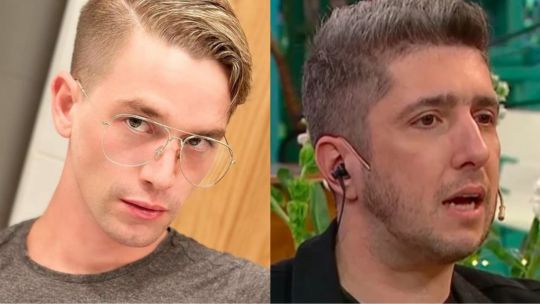 After the arrest of Marcelo Corazza Due to his alleged involvement with a network of corruption of minors, Lucas Benvenuto –victim of a similar organization that had been operating for years– denounced a situation of sexual abuse that he experienced when he was a minor with Mammon's propertywhom he had already denounced in 2020. In a defense made by the young man after his accusations were made public, he assured: "What happened is real, my story was true and there was consistency, but it was dismissed by prescription."
For his part, Jey Mammon released a statement in which he denies what happened: he said that it is "of a fake episode in much of its content"and who suffered"extortion behavior on behalf of the person who filed a complaint that the courts dismissed and closed".
the story of Lucas Welcome It was in an interview that he gave days ago, where he said that this happened when he was a minor, and, according to what he said, he had a relationship for three years with the Telefe driver, when he was 32. Although Benvenuto did not mention his name He did say that he was a conductor and musician who currently works on the channel.
"A year and a half ago I decided to file my last complaint because it takes time for me to speak and report. This person is conducting a program on Telefe. She is very well known. He is a driver and musician, I went out with him from the age of 14 to 17. The Prosecutor's Office told me that I was not going to be able to do anything because the cause prescribed," he said in an interview with In the afternoon, the cycle he leads Karina Mazzocco in America.
Benvenuto also stated that he made a formal complaint in 2020, but that he received negative responses from the Justice. "I reported it in 2020, in the middle of the pandemic. The hearing was through Zoom and the prosecutor, with her hand on her heart, told me 'we can't do anything because the case prescribed, if you want to make this case visible in the media, you have to keep in mind that you're not going to achieve anything from us because it prescribed'. That word is the story of my life: 'prescribed'" he recounted.
Later, on social networks, several users risked that it was Jey Mammón based on the information that is known on the subject, and it was Lucas who confirmed it by that means when someone asked him. "Yes it's him. Jey Mammon (Juan for me) ", he said in reference to his name, Juan Martín Rago.
According to journalist Jorge Rial, Telefe would have decided to unlink the driver from the La Peña de Morfi cycle. "Viacom authorities have just resolved that Jey Mammón no longer lead the program. This is official, it was decided that he no longer lead the program, it is the company's decision," he said.
They assure that Telefe would ask Jey Mammon to resign
Lucas Benvenuto's disclaimer: "The last tool I had left was the media"
Hours after the case generated a great impact, Lucas asked for understanding for deciding to preserve his health and not speak to the media anymore to expose himself about what he experienced. "I want to ask please to stop harassing me. There are many media that call me non-stop. I haven't been able to eat for two days, I haven't been able to sleep. I want you to know that after every interview I give, I am devastated. Please, for me it is very important every time I speak and I hope this is understood, "he said on his social networks.
Benvenuto also recounted that on two occasions, in recent years, he wanted to take his life. "The road was very long for me to be here today. What can I tell you about 'being here'? My life was at risk twice, there were two times that I tried to take my own life. I was even in intensive care twice and it was not known how I was going to wake up.
"Since I had no response from the Justice, I had no other option than to give face and voice to my cases together with my lawyer, who was very important on this path. He is the father I would have liked to have. We battle together in Justice ", he recounted his decision to speak publicly about the abuses.
In relation to Jey Mammón, he expressed: "The last tool I had left was the media, so at least I could have social justice or true justice. I think that now they are all on top of one person, that everyone already knows who he is. They are focused there, but I have been fighting with my lawyer in a lot of cases and it hurts me a lot that they want to use only that name to have the scoop ".
"We have been struggling with this for a long time. The Justice sided with me many times, and they can verify it if they go to court to request the files. What happened is real, my story was true and there was coherence, but it was dismissed due to prescription," said the young man.
"I was very clear and that's it. I already spoke, I already denounced. That's it for me, I'm not going to save the world if I give an interview to expose these people. I need to recreate love inside of me, because it was what saved me. It took me a long time to smile again. I want to be happy ", she finished.
Jey Mammon's statement
"Given the dissemination of a complaint that the courts decided to prescribe, in the case of a fake episode in much of its contentI see the need to inform that this action, which seeks iunspeakable revenues to the detriment of my person, is added a persistent campaign of harassment and defamation.
I have suffered extortionate behavior on the part of the person who filed a complaint that the courts dismissed and closed.
Notwithstanding the legal actions to be taken, it is imperative to make it clear that the situation in question is the product of the conduct of a person who, in this case, and before the courts, has acted untruthfully.
The media installation of the subject has put at stake the prestige and honor of the person who speaks to them in a delicate and sensitive event for the whole of society. I pray to God that it flows, the truth is exposed and known," posted the driver on his social media.
Jorge Rial gave details about the accusations against Jey Mammon: "The complaint existed"
In his program Radio 10the driver spoke this Thursday, March 23, on the subject and assured that the complaint against Jey Mammón was made in 2020 and that, as Lucas Benvenuto recounted, it prescribed.
"Lucas Benvenuto's complaint existed. It prescribed. Jey Mammón is dismissed due to the application of the prescription, which is not the same as dismissing it because the event did not occur," said Rial. And he added: "The event did indeed occur, but it was applied the prescription for the issue of the amount of time elapsed".
The journalist also recounted that at that time, the driver of La Peña de Morfi was defended by the lawyer Fernando Burlando. "The case number has the number 53975/2020 and the dismissal is dated March 9, 2021," she explained.
"The complaint was in 2020 and 10 years had already passed. The boy was 14 at the time of the abuse and Jey was 32. The statute of limitations is suspended as long as the victim is a minor and until, having reached the age of majority, he makes the complaint himself or ratifies the complaint made by his legal representatives during his minority. age", he explained regarding the law that establishes that cases of child abuse do not have a prescription date.
Lucas Benvenuto told how the abuses he suffered in a network of corruption of minors were
The young man said that when he was 11 years old, he was contacted by a man online and that as a result he met the psychologist Jorge Corsi and the music teacher Marcelo Rocca Clement, both convicted by a child abuse organization years ago.
"Although I did not have economic problems, my family did not take care of me and that made me a door for those people. When I was 11 I spoke with a person online, he told me that he was going to take me to McDonald's and others, and I agreed. I ran away from my house and it was a week where I was from house to house and from person to person. That's where I met Jorge Corsi and Augusto Correa, "said Benvenuto.
"These people abused me in every way," he added. Upon learning of the case in which the producer of Big Brother is accused and detained, Lucas Benvenuto made his case public and said that he had "sexual conversations" with him, but that They did not meet. "Regarding Marcelo, I want to clarify that I only talked and had sexual conversations but I never met. Anyway, I was unlucky enough to run into him."
developing news




Source link