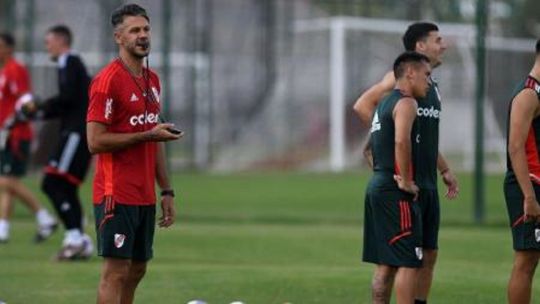 Like every weekend we bring you the sports agenda with the most relevant events of the day. Saturday starts with the visit of the Chelsea al Leicester. The team of Enzo Fernandez will seek to continue adding to reach the classification at the Champions League.
Next, Manchester City se mide ante el Crystal Palace. Those led by Guardiola are five points behind Arsenal. In the afternoon, the PSG will be measured against the Stade Brestois for the Ligue 1. The Parisian team is first eight points behind their escort.
In parallel, San Lorenzo will face Gymnastics in Bajo Flores. El Ciclón is the leader with 13 points together with Defensa y Justicia. On Sunday River Plate will receive Godoy Cruz. Martín Demichelis it would give Beltrán continuity in search of the second victory in the Monumental.
At night, Boca Juniors will play with Banfield In the south. Ibarra will repeat the same eleven and would go out with the offensive trident formed by Langoni, Benedetto and Villa.
The full schedule for the weekend
Saturday March 11
ARGENTINE PROFESSIONAL LEAGUE
17:00 San Lorenzo vs Gimnasia TNT SPORTS
19:15 Defense and Justice vs Talleres ESPN Premium
21:30 Belgrano vs. Lanús TNT SPORTS
9:30 p.m. Central Córdoba vs. Tigre ESPN Premium
PREMIER LEAGUE
09:30 Bournemouth vs Liverpool ESPN 2 STAR +
12:00 Everton vs Brentford STAR +
12:00 Leeds United vs Brighton STAR +
12:00 Leicester City vs Chelsea STAR +
12:00 Tottenham Hotspur vs Nottingham Forest STAR + / ESPN
14:30 Crystal Palace vs Manchester City STAR + / ESPN
SPANISH LEAGUE
10:00 Real Madrid vs Espanyol STAR + / ESPN
12:15 Elche vs Real Valladolid DIRECTV SPORTS
12:15 Elche vs Real Valladolid DIRECTV SPORTS
2:30 p.m. Celta de Vigo vs. Rayo Vallecano ESPN 3 STAR +
17:00 Valencia vs Osasuna DIRECTV SPORTS SERIE A
A LEAGUE
11:00 Empoli vs Udinese STAR +
14:00 Napoli vs Atalanta STAR +
16:45 Bologna vs Lazio ESPN 3 / STAR +
BUNDESLIGA
11:30 Frankfurt vs Stuttgart STAR +
11:30 Bayern Munich vs Augsburgo STAR + / ESPN
11:30 Hertha Berlin vs Mainz STAR +
11:30 RB Leipzig vs Monchengladbach STAR +
14:30 Schalke 04 vs Borussia Dortmund STAR +
FRENCH LIGUE 1
13:00 Auxerre vs Rennes STAR +
17:00 Brest vs PSG STAR + / ESPN
NBA
22:30 Golden State Warriors vs. Milwaukee Bucks ESPN 2 STAR +
UFC
20:00 Petr Yan vs. Merab Dvalishvili ESPN 4 / STAR +
SIX NATIONS
11:00 Italia vs. Gales ESPN Extra STAR +
1:15 p.m. England vs. France ESPN Extra STAR+
ATP 1000 – INDIAN WELLS
4:00 p.m. Second round ESPN Extra STAR+
23:00 Second round ESPN 3 STAR +
SUPER RUGBY AMERICAS
20:00 Yacare XV vs. American ESPN 3 STAR +
Sunday March 12
ARGENTINE PROFESSIONAL LEAGUE
17:00 Racing vs Sarmiento TNT SPORTS
19:15 River vs Godoy Cruz ESPN Premium
19:15 Estudiantes vs Huracán TNT SPORTS
9:30 PM Rosary Central vs Union ESPN Premium
21:30 Banfield vs Boca TNT SPORTS
A LEAGUE
08:20 Lecce vs Turin STAR +
10:50 Cremonese vs Fiorentina STAR +
10:50 Hellas Verona vs Monza STAR +
1:50pm Rome vs Sassuolo STAR + / ESPN
16:30 Juventus vs Sampdoria STAR + / ESPN
FRENCH LIGUE 1
08:50 Clermont vs Lens STAR +
12:50 Monaco vs Reims ESPN Extra STAR +
16:30 Olympique Marseille vs Strasbourg STAR +
PREMIER LEAGUE
10:50 Manchester United vs Southampton STAR +
10:50 Fulham vs Arsenal STAR +
10:50 West Ham vs Aston Villa STAR + / ESPN
13:20 Newcastle vs Wolverhampton ESPN 3 STAR +
BUNDESLIGA
11:20 Freiburg vs Hoffenheim STAR +
13:20 Werder Bremen vs Bayer Leverkusen STAR +
15:25 Wolfsburgo vs Union Berlin ESPN 3 STAR +
SPANISH LEAGUE
10:00 Mallorca vs Real Sociedad ESPN Extra STAR +
12:15 Sevilla vs Almería DIRECTV SPORTS
14:30 Villarreal vs Real Betis DIRECTV SPORTS
17:00 Athletic Bilbao vs Barcelona DIRECTV SPORTS
NBA
22:00 Los Angeles Lakers vs New York Knicks ESPN 2 STAR +
LEAGUE ACB
08:25 Real Madrid vs Bilbao FOX SPORTS 2
14:25 Barcelona vs. Baxi Manresa FOX SPORTS 2
SIX NATIONS
11:55 Scotland vs Ireland ESPN 2 STAR+




Source link